Bad Faith Insurance Claims: Are Punitive Damages Available?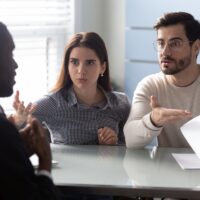 When you pay for an insurance policy, you're purchasing peace of mind. Whether it's a homeowner insurance policy or health insurance, it is important that you as a paying customer can trust that your insurer will provide the coverage you deserve if the worst-case scenario comes to pass. To help ensure that insurers provide promised coverage to customers, Indiana imposes a legal duty on all insurers operating in the state to act in good faith when handling a claim. If that duty is violated, customers can pursue a claim for damages against the insurer. When successful, bad faith claims against insurers entitle plaintiffs to money damages. Learn more about the types of damages owed to victims of insurance bad faith, and speak with a skilled Indianapolis insurance bad faith attorney with any additional questions you may have.
Insurance bad faith claims, explained
Businesses operating in the state of Indiana must uphold a duty to their customers of acting in good faith. In the context of the insurance industry, this means that insurers must respond to requests for coverage in an expedient manner, investigate them thoroughly, and only deny claims that are truly without merit or which are not covered by the customer's policy.
When insurance companies fail to uphold their duties to insured customers, those customers have a right to file a claim based on breach of contract or on the tort of breaching the covenant of good faith and fair dealing. Some examples of bad faith by insurers include:
Delaying or failing entirely to investigate a claim filed by an insured customer
Failing to notify the insured in a timely manner that there is no coverage for the insured's claim
Wrongly denying a claim
Failing to investigate a claim fully before denying it
Failing to settle a claim in an appropriate length of time
Failing to offer a fair settlement of the insured's claim that represented the value of the claim accurately
Failing to communicate appropriately with the insured regarding the reason a claim was denied or why coverage wasn't available
An Indiana tort injury attorney can help you decide whether filing a breach of contract claim or a tort claim based on bad faith is more appropriate based on the facts of your case.
Are bad faith victims entitled to punitive damages?
The types of damages that plaintiffs can seek in a lawsuit will change based on the facts of the case and the type of lawsuit filed. Plaintiffs in claims for a breach of contract can seek money damages in the amount of the face value of the insurance policy and other damages incurred. However, a tort claim for breach of the covenant of good faith and fair dealing allows plaintiffs to seek a wider range of types of damages. Under certain circumstances, victims of an insurer's bad faith may have a right to punitive damages.
Punitive damages are intended to serve as a punishment to a party that committed especially abhorrent behavior and to act as a deterrent against behaving similarly in the future. Under Indiana law, punitive damages are only available where an insurer acted with malice, fraud, gross negligence, or oppressiveness, which was not the result of a mistake of fact or law, mere negligence, or some other human failing. In other words, mere carelessness or mistake will not justify awarding punitive damages, and only deliberate or reckless acts would warrant the imposition of punitive damages.
Indiana imposes strict limits on the amount of punitive damages that victims can receive. Plaintiffs can receive a maximum of three times the amount of an award of compensatory damages (i.e., damages designed to repay the plaintiff for their direct losses), or $50,000, whichever is greater. Furthermore, the plaintiff can only take home 25% of the total amount of punitive damages awarded. The remaining 75% goes to Indiana's Violent Crimes Victims Compensation Fund. This fund offers support to crime victims in the form of payment for medical expenses, lost wages, funeral costs, and costs of therapy.
If you've been the victim of insurer bad faith in Indiana, find out if you're a good candidate to file an insurance bad faith claim by contacting the knowledgeable Indianapolis insurance bad faith lawyers at Lee Cossell & Feagley, LLP for a consultation on your case.