Nathaniel Lee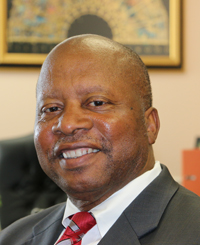 Attorney Nathaniel Lee, the Senior Partner of Lee Cossell & Feagley, LLP, is a graduate of Morehead State University, Morehead Kentucky, where he obtained his B.A. (1977) and Masters (1978) degrees. He received his J.D. from the University of Georgia, Athens (1982). He has practiced in the Indianapolis region since his bar admission and is active with various community organizations and boards.
Attorney Lee manages the Law Firm's operations. His practice encompasses virtually all of the substantive areas of litigation involving the Firm. He concentrates his practice areas involving major personal injury or death claims, medical negligence, defective products and police misconduct. He has litigated in excess of 150 jury trials. He has served as Chairman of the Board of Directors for the Marion County Bar Association (1987-91; 1993-97; 1998-2003, 2007-2014); Counsel to the Indiana Ronald McDonald House (1987-2000), Legal Education Director for the National Bar Association (2001-2008), Civil Advocacy Section Chair, National Bar Association (2003- 2009); Recipient of President's Award, National Bar Association, 2002, 2004, 2007; Indiana Supreme Court Hearing Officer (1999-2000), Indiana Supreme Court CLEO Advisory Board Member (1999- 2005), Co-Chair Judicial Evaluation Committee, Indianapolis Bar Association (2000-2001), American Trial Lawyers Association (now known as AAJ), the Indiana Trial Lawyers Association, Federal Appellate Bar Association and the Indianapolis Bar Association; Indiana Super Lawyer 2005-2018; 2009 recipient of "Distinguished Barrister" Award presented by Indiana Lawyer (selection from over 15,000 lawyers within the State of Indiana); selected as one of the "100 National Top Trial Lawyers" by American Trial Lawyers Association from 2007-2018.
Attorney Lee serves as Chairman of The Lee Foundation, a not-for-profit charitable organization which provides annual assistance to youth and families in the Greater Indianapolis and surrounding areas, as well as holds membership on many other community boards and projects. The Lee Foundation, chaired by Attorney Nathaniel Lee, is a non-profit organization, which provides assistance to families in the greater Indianapolis and surrounding communities. In the past, The Lee Foundation has sponsored two (2) annual events during the year: Halloween Drive-Through Candy Giveaway on Halloween Night and Christmas Adopt-A-Family during the month of December. Both events have been held for the past fifteen (15) years and have serviced thousands of families and children annually for the Halloween Candy Give-A-Way and assisted more than 2500 children and families for the Christmas Adopt-A-Family with food, clothing, toys, gifts and utility assistance during the Christmas seasons. Other assistance offered by the Foundation includes athletic sponsorships to local youth and youth groups, as well as other community assistance.
Notable Verdicts/Awards
Shipp vs Hobbs, et al, $17.0 million Miller vs Methodist Hospital/Patient Compensation Fund (Heparin Case), $1.0 million PCF; Jeffers vs Methodist Hospital/Patient Compensation Fund (Heparin Case), $1.0 million (PCF); Romo vs Smith, et al/Patient Compensation Fund (Wrongful Death), $1.0 million, Thompson v. Sipes, $507,000.00 Howard Superior Court), Estate of P. Wilson v. Moody, $300,000.00 Marion Superior Court; Civil Fraud Judgment in amount of $42,000.00 against POA in Estate of Bell; Judgment in amount of $5.1 million in O'Neal v. Swearingen; Four (4) confidential settlements re: negligence claims; Estate of Williams v Elkhart General Hospital, $108,000.00 loss of chance death case; Hines v Capello & Clarian, verdict $275,000, plus interest of $74,000;
Significant Constitutional Cases/Matters
Ashabraner v. Bowers, 753 N.E. 2nd 662 (Ind. 2001). Minorities were excluded through preemptory challenges during the jury selection process involving civil cases. The Indiana Supreme Court concluded that minorities should not be excluded from the jury panel in civil cases, even if the Plaintiff is Caucasian. Ultimately the case was retried and Plaintiff received $1.2 million gross award (2006).
Community Projects
Served as Counsel for NAACP Legal Redress Committee; former Vice-President, Indianapolis Chapter, NAACP; Negotiated Fair Share Agreement that desegregated management at Indianapolis Power & Light, 1987; Served as Local Counsel for NAACP in Class Action Lawsuit involving police and fire departments from 1985-present; Served as Local Counsel for NAACP involving voting rights lawsuit in 2008 Presidential Election, which resulted in Restraining Order to prevent exclusion of foreclosed homeowners from voting in election.
Judicial Service
Nathaniel Lee has (1) tried over a dozen cases as a Trial Judge; (2) served as a Hearing Officer for the Indiana Supreme Court from 1999-2002, where he heard lawyers disciplinary cases; (3) served as Co-Chairman of the Judicial Evaluation Committee for the Indianapolis Bar Association; (4) served as Judicial Evaluation Officer for the N.A.A.C.P. Civil Rights Groups that reports to the U.S. Senate for Federal Judges Confirmation Process. Nathaniel Lee was actively involved in the confirmation process of Federal Judges for the past twenty (20) primarily for NAACP.
Seminar(s)
2010 ICLEF Seminar: "Masters in the Courtroom: Trial Lawyers' Biggest Secrets Revealed", November 3, 2010.
Provides seminar presentations on an annual basis from 1996 through present, through National Bar Association, one (1) for ICLU, Indianapolis Bar Association and Marion County Bar Association.
Printed Honors/Awards
Featured in 2013 Super Lawyer magazine with article entitled "Q&A: From Bailiff to Bar