Flawed Communication through Doctors is a Leading Factor in Medical Mistakes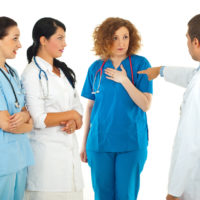 Medical mistakes are among the leading causes of death among Americans, and many researchers are now looking for answers about how these errors can be reduced. One team of analysts looked at thousands of medical malpractice claims and found that nearly a third appeared to have been caused by failures in communication. Learn more about the analysts' findings below, and speak with an Indianapolis medical malpractice lawyer if you've been hurt by a doctor's error.
CRICO Medical Malpractice Report
CRICO Strategies is a firm providing research and analysis on issues relating to insuring hospitals. Recently, CRICO undertook an analysis of legal and medical records related to nearly 23,700 malpractice claims filed between 2009 and 2013 to determine what factors led to the patient's injuries. According to the recently-published report on this study, over 7,000 of the malpractice cases studied were the result of a failure in communication between the medical professionals handling the patient's care. The report's authors point out that, since the only cases included in their analysis were related to malpractice claims, there were likely thousands more incidents where a communication failure resulted in negative outcomes for patients.
The report explained that these communication failures could happen at numerous stages of the patient's care. In one case, a diabetic patient had called the physician's office reporting certain symptoms. The message wasn't conveyed to the physician, and so no one returned the patient's call. The patient collapsed and ultimately died of diabetic ketoacidosis (a critical lack of insulin). In another case, a patient told nurses about experiencing abdominal pain after surgery, and nurses noted that the patient's red blood cell count had fallen. These symptoms, which can both be signs of an internal bleed, weren't reported to physicians, and the patient died of a hemorrhage.
Many times, these critical communication lapses occur during patient handoff, when an outgoing shift of doctors explains the conditions of their patients to the incoming shift. When patient handoff is disorganized, doctors may forget to convey important information about a patient's symptoms or medications, and these lapses can result in devastating injuries to patients. In order to address these types of lapses, researchers developed the I-PASS system, a methodical technique for conveying patient information during handoff that helps doctors cover all bases. The New England Journal of Medicine published a study in 2014 showing that one hospital experienced 23% lower rates of medical mistakes after implementing the I-PASS system. Years later, many hospitals have yet to adopt this system, or one like it, despite obvious shortcomings in communication between medical professionals and serious consequences to patients.
Contact a Medical Malpractice Attorney
For help getting the money damages you may be owed after an Indiana medical error, contact the dedicated and seasoned Indianapolis medical malpractice lawyers at Lee Cossell & Feagley, LLP for a no-cost consultation at 317-631-5151.