Recent Accidents Take Lives of Teacher and Student from MSD of Wayne Township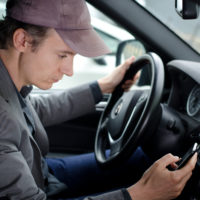 Two recent accidents took the lives of both a teacher and a young student, both from within the Metropolitan School District of Wayne Township in Indianapolis. The deaths are two examples of a troubling recent trend affecting US roads, where the rate of fatal car accidents seems to be continually increasing without a clear explanation.
On the morning of October 12, 2016, a kindergarten teacher from Rhoades Elementary was on her way to school when she was struck by a box truck. She was pronounced dead at the scene of the accident. Roughly 15 hours later on Wednesday, an 18-year-old Ben Davis High School senior and Marine Corps JROTC leader was riding as a passenger in a car near the intersection of 10th Avenue and Whitcomb Avenue at around 11 pm. The car was headed east on 10th Avenue as a pickup truck was headed west on 10th. Investigators told reporters that the car began to turn left onto Whitcomb Avenue in front of the truck, and the truck was not able to avoid colliding with the car. The truck t-boned the car, causing fatal injuries to the young passenger. He was pronounced dead later that evening at a local hospital, and both the car and truck driver were hospitalized with less serious injuries. Investigators do not believe alcohol or drugs played a role in the crash.
The National Highway Traffic Safety Administration (NHTSA) has recently reported that the rate of fatal injuries on America's highways in the first half of 2016 has risen dramatically from the fatality rate for the same period in 2015. According to Dr. Mark Rosekind, head of the NHTSA, 10.4% more people died in the first six months of 2016 than in the first six months of 2015. What makes this fact especially disturbing is that 2015 was itself an especially fatal year. For 50 years, the number of traffic fatalities has gone down with each passing year, due to factors such as improved vehicle safety technologies and education on the dangers of drinking and driving. That streak ended in 2015, when over 2,000 more people died on the road than in 2014. Accidents rose in nearly every category, including the deaths of teen drivers, cyclists, pedestrians, SUV rollovers, and accidents involving tractor-trailers. While this is in part due to an increase in total vehicle miles traveled as the result of a burgeoning economy, the increase in total miles driven was only approximately half as large as the increase in total fatalities. Rosekind explained in a press release that human errors, such as driving distracted or drunk, failing to wear a seatbelt, or failing to yield, account for 94% of all traffic fatalities. Experts on safety and traffic policy are still researching the cause for the uptick in fatalities.
If you've been injured in an accident in Indiana, contact the knowledgeable, compassionate, and trial-ready Indianapolis personal injury law firm Lee Cossell & Feagley, LLP for a consultation, at 317-631-5151.