Red Light Accident Causes Death of Young Girl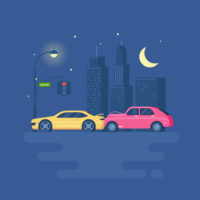 An accident involving a red light-running semi-truck caused the death of a local girl earlier this winter. Learn more about the accident below, and contact a seasoned Indianapolis personal injury lawyer if you've been hurt in an accident.
Accident at red light injures four
The lethal accident occurred in Miami County at the intersection of US 24 and Broadway Street. Law enforcement believe that a semi-truck traveling east on US 24 failed to stop at a red light, and in so doing, collided with a Ford Explorer that was turning onto Broadway, heading south. The collision caused the Explorer to spin into other lanes of traffic, colliding with a Chevy Cruz. The Explorer held three occupants at the time of the accident. The driver of the Explorer and her 8-year-old passenger were flown to Fort Wayne hospitals via medical transport. A 12-year-old girl who was also in the Explorer was declared dead at the scene of the accident. The driver of the Cruz was eventually also transported to a Fort Wayne hospital via air transport with what were described as life-threatening injuries. The driver of the semi-truck was not injured.
Red light-running accidents a top source of injury in Indiana
Red light-running accidents are one of the most common causes of injury accidents in Indiana. On average, over 700 people die each year in accidents caused by a driver running a red light, and over 125,000 people are injured in these crashes. More than 50% of those fatally injured in red light crashes are occupants of other vehicles, pedestrians, or bicyclists. In nearly 40% of all crashes resulting from a driver running a red light, injuries resulted from the crash. Despite the known risks, red light running remains a common habit of American drivers. In one poll conducted by the AAA Foundation for Traffic Safety, 93% of all drivers said they believed red light running is unacceptable if drivers had enough time to safely come to a stop, but 36% of all respondents also said they had run a red light in the past month. According to one study of activity at a busy intersection, drivers ran a red light on average once every 20 minutes. This illegal driving behavior saves little time but has the potential to impose life-ending consequences. Drivers who cause serious injuries by running a red light deserve to be held accountable to their victims.
If you've been injured in a red light accident in Indiana, contact the seasoned and knowledgeable Indianapolis personal injury attorneys at Lee Cossell & Feagley, LLP for a free consultation on your case, at 317-631-5151.