Alcohol a Suspected Factor in Fatal Indianapolis Head-on Collision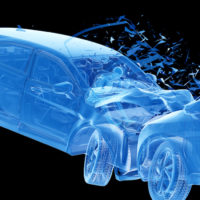 Two people died and another person was sent to the hospital following an Indianapolis car crash earlier this month. The accident occurred near the intersection of Fall Creek Road and Sand Key Lane on the northeast side of the city near the Geist Reservoir in Hamilton County. The head-on collision occurred around 10:30 at night on August Ninth between a black Cadillac SUV and a blue Ford Explorer. Much of the Cadillac's front end caught fire following the crash, although the Indianapolis Fire Department was able to contain the blaze and extinguish the flames.
The driver and rear passenger in the Ford Explorer were pronounced dead on the scene, while the front seat passenger was taken to the hospital in serious condition. The driver of the Cadillac was also taken to the hospital and treated for minor injuries.
It appears that the Cadillac was traveling south on Fall Creek Road when it crossed the center line and collided head-on with the northbound Explorer. The Cadillac's driver, Paige Byers of Noblesville, has been arrested and charged with one count of Operating a Vehicle While Intoxicated Causing Serious Bodily Injury and two counts of Operating a Vehicle While Intoxicated Causing Death. Both offenses are felonies.
According to the National Highway Traffic Safety Administration (NHTSA), nearly one-third of all traffic deaths in Indiana in 2012 involved drunk driving, which was a ten percent increase over the previous year. At 229, the number of alcohol-impaired-driving fatalities is lamentable, but it also underscores that in the vast majority of other traffic deaths (550) alcohol was not a factor. This leaves most of the crashes in the hands of negligent and inattentive drivers who were distracted by a cell phone or texting; speeding or driving too fast for current conditions; running red lights and stop signs; failing to signal a stop, turn or lane change; and making other poor driving choices.
Drunk driving is a serious criminal offense and one that greatly increases the likelihood of causing a crash resulting in serious personal injury or wrongful death. We should all refrain from making the decision to drink when we know we will be driving, and help others make the same smart choices. But at the same time we should not forget the myriad other ways accidents can happen. Safe and careful driving, including defensive driving, saves lives and the heartache associated with a serious accident, not to mention the liability you expose yourself to when you drive in a careless, negligent or reckless manner.