Children at Serious Risk of Injury when Not Properly Restrained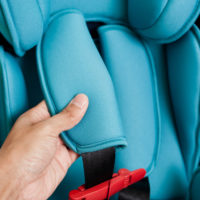 When you travel with your children in the car, you probably take care to ensure they're buckled in or properly restrained in their car seat before you get behind the wheel. Sometimes, car seats can be confusing to properly secure, or a clever and antsy child might simply unbuckle themselves at a point when you're unable to re-buckle them. Unfortunately, even if children are only out of their safety restraints for a moment, tragedy can strike. A recent article published in the Journal of Pediatrics revealed that unrestrained children run a great risk of being fatally injured in serious traffic accidents.
The newly-released study was conducted using data gathered by the Fatality Analysis Reporting System from over 18,000 fatal accidents involving a child that occurred between 2010 and 2014 across the US. In 16% of these accidents, a child was fatally injured. The researchers examined numerous factors to determine which ones had a measurable influence on whether a child becomes fatally injured in an accident. These included the type of road where the accident occurred (rural, urban, divided highway, speed between 60-80 mph, etc), the state in which the accident occurred, the type of vehicle in which the child was traveling, and whether or not the child was properly restrained.
The most significant factor affecting whether a child survived a crash was the restraints placed on the child while in the car. Among the children who died in the accidents studied, 43% were either not restrained at all or were restrained improperly. Another 13% of those children who were fatally injured were seated in the front of the vehicle when they should not have been. Children were also more likely to be fatally injured in accidents when traveling on rural roads and when riding in SUVs.
If your child has been injured in an accident where they were not properly restrained, don't assume that you will not be able to recover money damages for those injuries. While parents and other guardians of a child are required under law to ensure that a child is properly restrained in an appropriate car seat, this does not mean that at-fault drivers are necessarily relieved of liability for the injuries they caused. Speak with an experienced personal injury attorney as soon as possible about your claim for damages after an Indianapolis car accident.
For skilled legal help after a crash in Indiana, contact the dedicated and knowledgeable Indianapolis personal injury lawyers at Lee Cossell & Feagley, LLP for a consultation, at 317-631-5151.