Choosing the Right Time to Change Out a Car Seat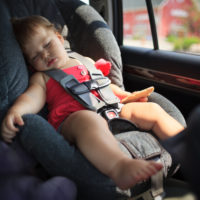 Roads can be a dangerous place, especially for very young children. It's important to use a safety seat that keeps your child safe while riding as a passenger in your car, and what makes a seat the right one can change as your child grows. Learn more about when you should change your child's car seat for a new model, below.
Hand-me-down seats may have reached their expiration date
If you received your seat from a friend or have simply used the same seat with your older children, the seat may be overdue for retirement. Safety seat manufacturers include an expiration date in the manual that comes with each seat, typically set six years after the seat was manufactured, and it isn't for the sole purpose of getting parents to purchase a new seat. This date ensures that parents don't use a seat with decaying components. Placing a limit on how long the seat should be used can also prevent a seat that, unbeknownst to the owner, has been recalled.
Children's changes in height may surpass their weight
Seats for small infants often include a weight limit, but not a height limit. If an infant gets taller before they get heavier, they may become uncomfortable riding in a rear-facing seat. That said, placing your child in a less-restrictive seat while they're too small can make them less safe. A good compromise might be to buy a rear-facing convertible seat. That way, your child can remain in a safer position until they're ready to switch, without you having to purchase a whole new seat.
Regularly check for damaged components
Buckles, straps, and elastics on car seats can wear over time. Continuing to use a seat with damaged components can result in injuries if the seat is involved in an accident. Check for damage on a regular basis. If the seat was in the car at the time of an accident, this could also mean that it's time to be replaced. According to the National Highway Traffic Safety Administration, if the seat was in the car during a crash when the airbags deployed, the car had to be towed from the scene, or the door nearest the seat was damaged, then the seat should be replaced.
If you or your child has been injured in an accident in Indiana, find out if you might have a right to seek money damages for the costs associated with those injuries by contacting the dedicated and effective Indianapolis auto accident lawyers at Lee Cossell & Feagley, LLP for a consultation, at 317-631-5151.