CPAP Recall Symptoms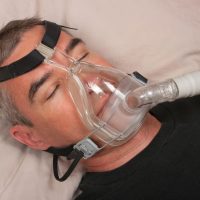 Millions of Continuous Positive Airway Pressure (CPAP) machines, ventilators, and bilevel positive airway pressure (BiPAP) machines have been recalled due to dangerous product defects. Medical device manufacturer Philips Respironics has been accused of selling dangerously defective devices to hospitals, patients, and other medical care providers around the country.
If you have been using a CPAP, BiPAP, or ventilator, whether manufactured by Philips or another company, you may have been hurt by the faulty device. See below for common symptoms suffered by patients affected by faulty CPAP machines and other breathing devices. If you or a loved one has been harmed by a defective CPAP machine, call an experienced defective medical device lawyer for help obtaining compensation.
Dangers of Defective CPAP Machines
Philips CPAP machines are defective as designed and built. They are manufactured with a polyester-based polyurethane foam to dampen sound and vibration coming from the device. Unfortunately, the foam is prone to decomposition over time. Degradation of the foam may also off-gas certain chemicals, especially during cleaning or when the product is used in warmer climates. Small pieces of the foam and other chemicals leak into the machine which can, in turn, be ingested or inhaled by the patient during normal use or maintenance of the device. Inhalation or ingestion of these harmful particles can cause significant and even fatal problems for patients.
Symptoms of CPAP Recall Injury
If you currently use a Philips CPAP, or if you or a loved one has ever used a Philips CPAP, BiPAP, or ventilator, you might have been exposed to harmful chemicals. You may have ingested or inhaled foam particles and other toxic chemicals produced by the device. Device users may be able to identify foam degradation by noting black debris or particles in the CPAP airpath or extending from the device's outlet, humidifier, mask, or tubing.
Patients who have inhaled or ingested the harmful chemicals may experience a number of harmful side effects, including:
Headache
Airway irritation
Sinus pressure
Persistent cough
Chest pressure
Skin, eye, or respiratory tract irritation
Headache
Inflammation
Ear pressure
Asthma
Nausea and vomiting
Nasal dryness and irritation
Dizziness
Trouble sleeping
Gastroesophageal reflux disease (GERD)
Hypersensitivity
The chemicals can be toxic, causing temporary or long-term illness. The chemicals leaked by the devices may also be carcinogenic. CPAP users can contract certain cancers over time, which may prove fatal. If you have a loved one who succumbed to an unexpected cancer after using a Philips CPAP machine, there may be a connection. Discuss the matter with your physician and with a knowledgeable CPAP recall injury lawyer to find out more.
Call Lee Cossell & Feagley, LLP for Help With a Defective Medical Device Claim in Indiana
If you have been injured in Indiana by a defective CPAP, ventilator, BiPAP, or another consumer product, reach out to a seasoned product defect attorney today at Lee Cossell & Feagley, LLP. We can help you gain the compensation you deserve if you have been seriously injured by a recalled medical device or other defective product.