Do's and Don'ts in a Truck Accident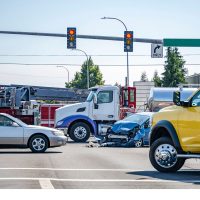 If you've been in an accident with a semi, tractor-trailer, eighteen-wheeler, big rig, or other large commercial truck, you may have a substantial claim for relief. It's important to take the right steps after a large truck crash to start building your case. Read on below for tips on what you should and should not do after a commercial truck crash. If you've been injured in a large truck crash in Indiana, call an Indianapolis truck crash lawyer at Lee Cossell & Feagley, LLP for advice and representation.
What to Do After a Truck Crash
If you've been hurt in a truck accident, there are a few important steps to take in order to protect your health and protect your rights. These steps include:
Stop at the scene. The law requires you to stop at the scene if you've been involved in a car accident. If anyone is hurt, you must call 911. You must exchange identifying information with any other motorists involved, including names, addresses, phone numbers, and insurance information. Fleeing the scene can not only undermine your legal rights–it can also lead to criminal charges.

Seek medical attention. If you are seriously hurt, wait for emergency services. Do what they say, and take the ambulance ride if offered; protecting your life is your first priority. Even if you have not been critically injured, you should get to a doctor as soon as you can after a car crash. You could have hidden injuries you haven't yet noticed, such as organ damage, internal bleeding, or a concussion. Getting a diagnosis soon after a crash will also prevent a defense lawyer or insurance company from claiming that your injuries occurred after the accident.

Gather evidence at the scene. If you are able to move around after the accident, it's helpful to start collecting evidence ASAP. Take photos of your injuries, of the vehicles, and of the surrounding road conditions–traffic lights, stop signs, the weather, traffic cameras, etc. Make sure to find out what company the truck driver works for. If there are any witnesses, such as pedestrians, you may want to get their contact information so that your attorney or the police can reach out to them later.

File a police report. If there's an accident, you should call the police. Do not let the truck driver convince you to "leave the cops out of it." The police report will likely turn into a key piece of evidence for your eventual injury claims.

Keep copies of everything. If you were hit by a commercial truck, you may have a legal claim for damages. Everything connected to the accident may be useful evidence to build your case for liability or damages. Keep copies of any documents or communications relating to the accident, including police reports, medical reports, medical bills, letters or emails from the insurance company, emails with your employer about missing work, etc.
What Not to Do After a Truck Accident
After an accident with a large truck, it's important to avoid any pitfalls that can undermine your claims. Things you should avoid after a large truck crash include:
Don't leave the scene. If you've been in a truck accident, stop at the scene until police and/or other first responders arrive. As we mentioned above, you should exchange information with the other drivers and witnesses.
Don't admit fault. We are conditioned to be polite and apologetic under most circumstances. Unfortunately, when a legal claim may be involved, that behavior can undermine your rights. Even saying "I'm sorry" after an accident can be used as evidence against you. Even if you think you might be at fault, don't admit blame until you've talked to a car accident lawyer. There may be additional facts and circumstances you don't know about.
Don't discuss the case. After a truck accident, you should collect identifying information from the truck driver and any witnesses, and you should explain what happened to the police. Aside from that, you should not discuss the case with anyone until you talk to an attorney. You might accidentally say something that will undermine your case, which can limit or even outright prevent your recovery.
Don't post on social media. It's tempting to post about your accident and recovery process online, to assure your family and friends that you're ok. If you say too much, however, you could accidentally admit fault, or you may undermine the severity of your injuries, and any good defense attorney will use those posts against you. Before you post anything online, talk to your personal injury attorney.
Don't go it alone. If you want to build the strongest case and maximize your chances at a full recovery, you need help from a seasoned truck accident attorney. Truck accident victims are much more likely to win and recover significantly more compensation when they have a solid legal advisor on their team.
Call for Trusted Legal Help With Your Indianapolis Truck Accident Claim
If you or someone you love has been hurt or killed in a traffic accident in Indiana, contact the seasoned Indianapolis personal injury lawyers at Lee Cossell & Feagley, LLP for a free consultation on your case at 316-631-5151.