Family of Deceased Clemson Student Files Wrongful Death Suit Against Fraternity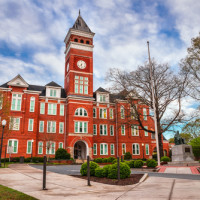 The family of Tucker Hipps, a 19-year-old Clemson student who died while on a run with his fraternity, is now suing the fraternity for wrongful death.The complaint alleges that Sigma Phi's hazing practices ultimately led to Hipps' death, and that several fraternity members attempted to cover up their involvement following the incident.
The complaint, which is seeking an award of $25 million plus punitive damages, accuses the fraternity of lying to Hipps' girlfriend in an attempt to "buy time," according to a text that was later revealed.
The investigation into the exact cause of death is still ongoing, according to Oconee County Coroner Karl Addis. However, officials have preliminarily concluded that the injuries were consistent with a "downward headfirst falling injury."
Confrontation Over Hazing Ritual May Have Led to Death
Hipps, who was a Sigma Phi pledge at the time of his death on September 22, 2014, had been repeatedly asked by fraternity brothers to provide 30 McDonald's meals for the morning run. Hipps had responded that he lacked the money to purchase the meals – money which the fraternity brothers had instructed him to collect from the other pledges. As a result, the Defendant Thomas King, who had been overseeing the 5:30am run, became incensed. A confrontation ensued, during the course of which Hipps allegedly was sent over a bridge railing into the lake below.
The family of Hipps released a statement harshly indicting the actions of Sigma Phi and its members, stating, "The culture of hazing and inappropriate conduct by social fraternities must be stopped. Universities and fraternities must make change from within to protect their own… Tucker lost his life, but we must not let it be vain."
According to the Oconee County Sheriff's Office, no criminal charges in connection with Hipps' death have been made thus far.