Greater Truck Underride Protection May Become Mandatory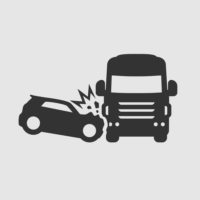 Large commercial trucks, such as 18-wheelers and semi-trucks, hold the potential to do great harm when involved in a collision with a passenger vehicle, and the victims of these crashes are far more likely to be the occupants of the passenger vehicle than those in the truck. A group of federal lawmakers are now pushing for the passage of a new law that would offer greater protections to passenger vehicle occupants by making front and side underride guards mandatory on large trucks. Read on to learn more about underride crashes and the ways they can be prevented, and contact a knowledgeable Indianapolis truck accident lawyer if you've been injured in a crash.
Underride collisions can be deadly
According to the Insurance Institute for Highway Safety (IIHS), roughly 1,475 passenger vehicle occupants died in collisions with tractor-trailers in 2016. Underride collisions occur when a passenger vehicle that collides with the front, side, or rear of a large truck slides underneath the much larger truck. These collisions often result in the passenger compartment of the vehicle having its roof sheared off, or in the compartment being crushed entirely. Federal rules require that large trucks use rear guards that keep cars from sliding underneath trailers in the event of a rear-end crash. Yet in too many cases, passenger vehicles still suffer underride damage, either due to these guards not being in place or not being strong enough to prevent an underride. The IIHS looked at 115 accidents involving a passenger vehicle hitting the rear of a tractor trailer, and found that about half of all vehicles suffered some degree of underride damage. Of the 28 fatal accidents among the 115 they studied, 23 involved severe underride damage.
New rules on underride guards could save hundreds of lives
If approved by the House and Senate, the legislation, known as the Stop Underrides Act of 2017, would require that large trucks use rear guards rated to withstand greater force, and also use side and front underride guards. Sen. Kirsten Gillibrand, one of the main sponsors of the bill, explained that, "with so many unpredictable accidents on the road, underride guards are an easy solution for protecting people and preventing them from dying when a car collides with a truck." The underride guards could prevent hundreds of fatal accidents through the relatively-simple addition of panels and bars that would keep cars from sliding under trucks.
If you or someone you love has been hurt in an Indiana truck accident or big rig crash, get skilled and experienced help seeking damages for your injuries by contacting the seasoned and professional Indianapolis truck crash lawyers at Lee Cossell & Feagley, LLP for a free consultation at  317-631-5151.