Helmet Camera Footage Leads To Indictment Of Driver For Assault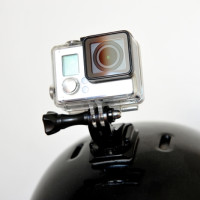 Any regular motorcycle rider can tell a dozen stories of passenger vehicles driving dangerously around them, even putting the life of the biker in peril by failing to check their blind spots, improperly estimating a bike's speed, or even making deliberate dangerous maneuvers out of anger at the biker. As the popularity of GoPro cameras increases, with many motorcyclists using the cameras while they ride, stories have begun to emerge about the ways this footage can help protect you in court and bring malicious drivers to justice, as well as provide the police with evidence against bikers. A story out of Texas of a dangerous passenger vehicle driver using his car as a weapon against a motorcyclist is an illustration of the possible benefits to equipping your motorcycle or helmet with a camera.
William Crum was driving along a two-lane highway in Granbury, Texas on October 17, 2015, when the incident occurred. The victim, Eric Sanders, was riding his motorcycle with his girlfriend Debra Simpson riding in back. A fellow motorcyclist driving behind Sanders was wearing a camera, which captured the incident. According to Sanders, Crum was going 40 in a 65mph zone, and so Simpson attempted to pass Crum on the left. While on the side of Crum's Mercury sedan, the sedan swerved abruptly to the left, clipping Sanders' bike and sending him and Simpson careening off the side of the road. The second biker is heard on the video tape yelling, "What were you doing? You hit them," to which Crum is heard responding, "I don't care."
Crum was arrested after the incident and has since remained in Hood County jail with his bond set at $150,000. Simpson was sent to the hospital in serious condition and has undergone five surgeries to treat her accident-related injuries. Crum's insurance has denied coverage of Sanders' and Simpson's claim. In a jailhouse interview of Crum conducted days after the accident, Crum expressed his anger that Sanders was not criminally charged for trying to pass Crum illegally, refused to apologize for his behavior to Sanders, but did express some remorse that Simpson was injured. The video of the assault and crash captured by the second biker quickly went viral. On January 8, 2016, Crum was indicted by a Hood County grand jury on two counts of aggravated assault. The footage captured by the second motorcyclist proved integral in supporting the charges.
If you do decide to use a camera on your bike, make sure you exercise caution with both the mounting and use of the footage. Cameras mounted to helmets are illegal in certain locales, due to the risk that the camera could become a dangerous weapon in the event of a crash if landed on the wrong way. Additionally, camera footage can support claims that another driver was negligent, but it can also get bikers in trouble. There are countless videos online of bikers pulling dangerous stunts for their own cameras, but one video stands out as an example of what not to post online. The video, posted on YouTube under the title "Yamaha R6 Runs From Cops – Full High Speed Chase!!" shows the rider traveling at up to 115mph while avoiding pursuing police officers. Once local police found the video online, the rider and poster was quickly arrested.
If you are in need of a skilled Indiana attorney to defend your civil rights as a biker, or to help you obtain compensation for your injuries in a motorcycle crash, contact Indianapolis motorcycle attorneys Lee Cossell & Feagley, LLP for a consultation on your claims, at 317-631-5151.