How Do Rollover Crashes Happen?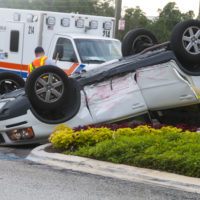 The National Highway Traffic Safety Administration (NHTSA) reports that rollover crashes are one of the deadliest forms of accident on US roads. According to the NHTSA, while only 3% of all auto accidents can be described as rollover crashes, these accidents are the cause of approximately 30% of all roadway fatalities annually. Survivors of rollover accidents can be left with substantial injuries and medical expenses, and can even experience post-traumatic stress as the result of these violent crashes. What causes rollover accidents, and how can they be prevented? Read on to learn more.
Rollover mechanics
A car or truck will roll over when its center of gravity is shifted far to one side by the accumulation of lateral forces on the vehicle. These lateral forces can build up when a car makes a sharp or abrupt turn, or turns at a high rate of speed. The majority of rollover accidents happen on roads with a speed limit of 55 mph or more, and rollovers occur most often on roads in rural areas.
Rollovers often caused by "trips"
"Trips" are the term used to describe either a pothole, guardrail, soft shoulder, or object in the roadway that can ensnare a car's tires and cause it to be pulled to one side abruptly. According to the NHTSA, trips are the most common cause of rollover crashes. Highways in poor condition can provide an elevated risk of a rollover accident.
Defective vehicle design can play a part
Rollover accidents are more likely for vehicles that have a high center of gravity and a relatively narrow wheel base. This can include certain SUV models, large vans, or trucks. While car manufacturers have largely improved vehicle design to reduce the chances of a rollover crash, there is still a greater risk of rollover in taller vehicles than in those which are lower to the ground.
Tires in poor condition can cause rollover accidents
When tires are underinflated or lack sufficient amount of tread, they can cause rollover accidents. Tires which are soft or bald provide a driver with less control and require more time to bring to a stop, resulting in a higher risk of rollover.
If you have been injured in a rollover accident in Indiana, find out if you have a claim for damages by contacting the seasoned and trial-ready Indianapolis personal injury lawyers at Lee Cossell & Feagley, LLP for a consultation, at 317-631-5151.