Crash at Indianapolis Intersection Leaves One Woman Fatally Injured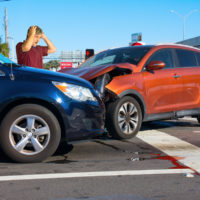 A crash on the north side of Indianapolis resulted in fatal injuries for a local woman. The crash between two cars occurred during a left-hand turn. Learn about the crash below, as well as the dangers posed by intersections, and contact an Indianapolis auto accident lawyer if you've been hurt in a left-turn crash.
The recent local accident occurred near 1800 East 86th Street. An SUV carrying two people was attempting to turn left when it was struck by an oncoming silver passenger car. The crash caused the driver of the SUV to lose control of the vehicle. The SUV struck a tree before coming to rest on the grass outside of North Central High School. In the course of the accident, the driver of the SUV was thrown from the vehicle, suffering serious injuries in the process and having to be taken to a local hospital for treatment. The passenger, a 41-year-old woman, was thrown into the back seat of the vehicle. She was pronounced dead at the scene of the accident. None of the multiple occupants of the silver vehicle suffered injuries in the crash.
More than a third of traffic accidents occur at intersections
Intersections are one of the most common sites of motor vehicle accidents, especially in urban areas. Left turns across traffic are the source of many of these intersection accidents. The National Highway Traffic Safety Administration has found that 36% of all accidents occur at intersections, and 22% of all intersection accidents are caused by a driver making a left hand turn and not yielding to oncoming traffic when doing so. One study found that 50% of all roadway fatalities occurring at intersections happened during left hand turn crashes.
A driver must make multiple judgments and visual checks when executing a left turn when there is oncoming traffic, such as the presence and speed of any oncoming traffic, as well as the presence of pedestrians or cyclists in the crosswalk. With multiple sources of judgment come multiple opportunities for a crash, should any of these judgments or observations be made poorly. Some of the most common forms of driver error that result in an intersection accident include making an inadequate visual check before turning or traveling through the intersection, assuming another driver's intentions incorrectly, turning with only a partial view of oncoming traffic, and judging another driver's speed incorrectly. Drivers who cause a crash when using poor judgment when turning left can be held financially liable for the property damage and injuries they cause. An Indianapolis personal injury attorney can help you assess the value of your claim after a crash.
If you've been hurt in an Indiana left turn crash, contact the seasoned, dedicated, and knowledgeable Indianapolis personal injury attorneys at Lee Cossell & Feagley, LLP for a free consultation on your case at 317-631-5151.