Lawsuit Filed Against Crown Hill Cemetery over Pre-Need Contracts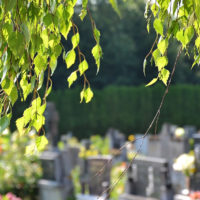 Indianapolis' Crown Hill Cemetery, the third-largest private cemetery in the United States, has found itself the subject of a civil lawsuit filed by a woman who claims her mentally ill mother was duped into agreeing to pay $11,000 for a cemetery plot that she did not want. The plaintiff, who acts as a legal guardian for her mother, alleges that the contract signed by her mother was entered into while the mother was a resident of Florence House, a mental health facility. The lawsuit filed against Crown Hill Cemetery is a class action suit, and is filed on behalf of similar plaintiffs who might have entered into so-called "pre-need" contracts with the cemetery during the time that they were residing in mental health facilities or hospitals.
The plaintiff, Deitra Covington, claims she just recently found out that her mother has been paying $140 a month to Crown Hill Cemetery for the past two years, for a total of around $4,100, on an $11,750 funeral plan, which includes around $2,480 in finance charges alone. She says her mother was visited by a salesperson for the cemetery during the time she was a resident at Florence House, and that salesperson set up an automatic payment plan of $140 a month to be paid to the cemetery through an automatic deduction from the $600 a month in social security benefits that Florence House was receiving on behalf of the mother. Covington was her mother's legal guardian at the time the contract was entered into, and she did not approve the contract. Furthermore, the mother did not wish to be buried at the cemetery or enter into the contract. The automatic payment plan was discovered after Covington removed her mother from Florence House after being notified through a TV newscast that her mother had wandered away from the facility.
Contracts for preneed funeral and burial costs in Indiana are regulated by the "Pre-Need Act." Under the Pre-Need Act, salespersons are not allowed to directly solicit customers who are in hospitals or mental health care facilities. Notably, the alleged facts of this case indicate not only questionable behavior by the cemetery in using salespersons to market to customers in caretaking institutions who are represented by legal guardians, but also questionable behavior on the part of the caretaking institution itself. A mental health care facility, like a nursing home, has an obligation to protect the interests of its residents who cannot fully take care of themselves, and should be held liable when its actions fall short of the required standard of care, resulting in injury to the residents.
If a family member has been injured or died due to the negligence of an organization entrusted to protect that family member, whether that be a day care, school, nursing home, assisted living facility or otherwise, contact the knowledgeable and compassionate attorneys at Lee Cossell & Feagley, LLP in Indianapolis to discuss your potential claims.