Legendary Musician Prince Dies Without a Will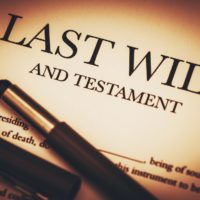 Even those who are young or in excellent health can end up passing away under unpredictable and tragic circumstances. It is for this reason that any adult should have a will, and especially any adult with children or substantial assets. Nevertheless, the American Bar Association estimates that roughly 55% of all Americans die intestate (i.e., without a will). Need a recent and noteworthy example of someone dying intestate with enormous repercussions? How about legendary musician Prince Rogers Nelson, who passed away in April at 57? While the fight over his estate is just beginning, it is already becoming heated. Save your family and loved ones from the stress of a fight over your belongings by creating and regularly updating a will or estate plan.
Prince had long been known as a particularly savvy businessman, maintaining close control over the legal rights to his music and operating his own recording label. This is why it came as a shock when his only full sister, Tyka Nelson, filed a petition in Minnesota state court requesting the appointment of a special administrator to handle the distribution of Prince's estate in the absence of a will. Prince was unmarried and had no known children when he died. Under the Minnesota rules governing how a deceased person's belongings are distributed after they die without a will (known as the rules of intestate succession), assets would first go to a wife and children, and if none exist then to parents, then to any siblings, and on out to increasingly distant relatives. In Prince's case, six siblings have so far come forward, some of which are half-siblings that are considered equally entitled to the estate as full siblings in Minnesota. The appointed administrator had declared that all possible heirs had been reached, until a man named Carlin Q. Williams, currently serving a sentence in a Colorado federal prison, came forward claiming to be Prince's son, and demanding a blood test to confirm Prince's paternity. Should Williams be proven to be Prince's child, he would be entitled to inherit Prince's full estate.
Aside from the recipients of the assets, Prince left many unanswered questions about what should be done with his music and business ventures. Prince recorded hundreds of songs which were never released to the public, stockpiling them in his Paisley Park mansion. He was also highly protective of the release of his music on subscription streaming sites such as Spotify. Whether or not those recorded songs should be released, with profits to go to his heirs, or whether controls should now be loosened on preexisting releases, will be a question that an administrator will have to answer with no guidance from the artist himself.
To ensure that your family is cared for after you pass and that you take the opportunity to give back to the causes that mattered to you during your lifetime, create an estate plan by contacting the skilled Indianapolis wills and trusts attorneys at Lee Cossell & Feagley, LLP, at 317-631-5151.