Motorcycle Laws in Indiana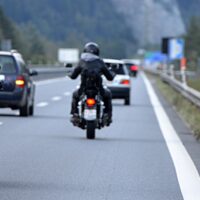 Motorcycle riding can be an entertaining, cost-effective alternative to driving a passenger car. Motorcycles are, however, significantly more dangerous than passenger cars. Bikers are directly exposed to any impact from objects or vehicles, and even a slight mistake is likely to lead to serious injury. Moreover, motorcycles are harder to spot on the road, increasing the risk of an accident. Indiana imposes specific laws and regulations concerning motorcycles in order to ensure rider safety. Read on for a discussion of the most important motorcycle laws in Indiana, and call an Indianapolis motorcycle crash lawyer if you or a loved one has been injured in a car wreck in Indiana.
Helmet Law
Some states require motorcycle riders to wear helmets at all times. In Indiana, only riders under the age of 18 are required to wear a helmet, and only when they are on a road; if they are off-road, helmets are not a requirement. Helmets are also required for permit-holders.
Biker Training
To ride a motorcycle, a person in Indiana must be at least 16 and a half years old and obtain a motorcycle endorsement on their general Indiana driver's license. To obtain an endorsement, a rider must do one of the following:
If the rider is at least 16 years and 90 days old, they may complete a Safety Course with an authorized Ride Safe Indiana provider and take proof of their graduation to the BMV.
If the rider is at least 16 years and 270 days old, they may complete a written test at a BMV to obtain a motorcycle permit, and then complete a motorcycle skills test at an authorized Ride Safe Indiana provider. The rider must then take their stamped and signed motorcycle permit to a BMV to get the motorcycle endorsement.
Riders may also need to complete a vision test. Riders under the age of 18 must also have a parent or guardian sign an Agreement of Financial Liability.
Equipment Regulations
Motorcycles are required to include certain features and equipment to be road-ready. In Indiana, those requirements (for bikes manufactured after January 1, 1956) include:
Brakes, either hand or foot;
Headlamps, at least one and no more than two, and that meet certain visibility guidelines;
Handlebars no more than 15 inches above the seat;
Rear-view mirrors, speedometer, and turn signals;
Rear reflectors, placed between 20 and 60 inches from the ground and visible at night from between 100 and 350 feet from another vehicle.
Motorcycle Traffic Laws
Motorcycle riders are generally permitted full use of traffic lanes, and other drivers are prohibited from driving in a manner that deprives the biker use of a lane. Motorcycle riders are permitted to ride side-by-side with another motorcycle in a single lane, so long as both riders consent to doing so. Riders must use their headlights even during the daytime.
Otherwise, motorcycle riders are subject to the same traffic regulations that apply to passenger cars and other vehicles on the road, aside from rules that explicitly do not apply to motorcycles or other motor-driven cycles. Bikers must carry a minimum amount of liability insurance and adhere to traffic signs and signals.
Get Help After Your Indianapolis Motorcycle Crash
If you or someone you love has been hurt in a motorcycle accident in Indiana, contact the seasoned and effective Indianapolis personal injury lawyers at Lee Cossell & Feagley, LLP for a free consultation on your case at 316-631-5151.