Can Patient Falls Be Considered Malpractice in Indiana?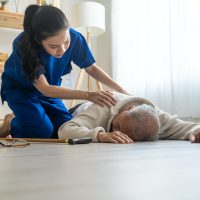 Elderly, ill, and injured people are at especially high risk of injury due to falls. In fact, more than 800,000 people a year are hospitalized due to a fall injury, most commonly a head injury or hip fracture. Nationwide, more than 300,000 elderly people a year are hospitalized for hip fractures. According to the Institute for Healthcare Improvement, 10% of fatal falls among the elderly occur in hospitals. Hospitals, nursing homes, and other facilities that treat elderly or ill patients have a responsibility to ensure that the people in their care are kept safe. If you or a loved one fall while undergoing treatment, do you have a medical malpractice claim? Read on for a discussion of patient falls in hospitals and medical offices in Indiana. If you or a loved one has been injured in a hospital, medical office, nursing home, or long-term facility, call an Indianapolis medical malpractice lawyer for professional help.
Medical Professionals Owe Patients a Duty of Care
Medical malpractice, like other personal injury claims, is based on four elements: duty, breach, causation, and damages. Medical professionals owe a duty of care to patients. That means that they must act reasonably based on the circumstances, in accordance with how other medical professionals would have acted in that situation. If a medical professional acted unreasonably in the course of treating a patient, then they have "breached" that duty. If that breach caused the patient injury, the patient may have a medical malpractice claim.
Whether the patient has a medical malpractice claim typically turns on whether the medical professional committed medical negligence, i.e., whether they acted in a way that was not in accordance with accepted medical standards. Proving medical malpractice usually requires testimony from a medical expert demonstrating that a reasonable medical professional in the same situation would have acted differently.
Does a Fall Constitute Medical Negligence?
Medical professionals know that patients, especially elderly patients, are at risk of falling. They are expected to take appropriate precautions to prevent patient falls, and if they fail to take those precautions or otherwise act reasonably, the patient could have a medical malpractice claim.
Whether a patient's fall can give rise to a medical malpractice claim depends on the factors leading to the fall. Did a physician or nurse make a mistake in the treatment of the patient, which contributed to the likelihood of a fall? Examples of conduct that might give rise to medical malpractice after a fall include:
Failure to diagnose a condition that carries a fall risk
Failure to recognize and supervise a patient with a fall risk
Failure to notice a patient's loss of balance or other symptoms that could lead to a fall
Failure to supply a patient with proper medical devices or prosthetics necessary to prevent a fall (such as crutches or a wheelchair)
Prescribing medications to a patient without accounting for damage to the patient's loss of balance caused by the medication, or mis-prescribing medication that leads to a patient's fall
Failure to employ bed rails
Ordinary Negligence and Premises Liability
It's also possible that a patient is injured as a result of ordinary negligence in the hospital. If hospital staff fail to clean up a spill or remove a tripping hazard, for example, and a patient is injured as a result, the patient might have a premises liability claim. A standard personal injury claim may be much easier to pursue, and much faster to resolve, than a medical malpractice claim. Your personal injury attorney can advise you as to your legal rights and how to build your strongest claim for relief.
Call Today for Help With an Indianapolis Medical Malpractice Claim
If you or someone you love has been hurt in a hospital fall in Indiana, contact the experienced and successful Indianapolis personal injury lawyers at Lee Cossell & Feagley, LLP for a free consultation on your case at 316-631-5151.