Patient Wins Appeal against Terre Haute Surgeon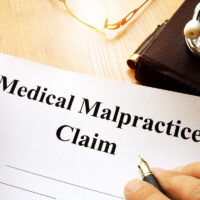 In a recent decision by the Court of Appeals of Indiana, the judges upheld an award of damages to a patient whom a jury found had not been adequately informed of the risks involved in surgery on his hand. Read on to learn more about the case and the importance of informed consent, and contact a seasoned Indianapolis medical malpractice attorney if a medical error has harmed you.
Surgery for neuroma left patient in additional pain
The recent decision was issued in the case titled Glock v. Kennedy. Rickey Kennedy, the plaintiff, had experienced an accident at work that left him with crush injuries to his index finger. These injuries forced him to undergo several operations by Dr. Christopher Glock, resulting in an amputation of most of his index finger. After the amputation procedures, Kennedy complained of severe pain in the remaining nub of his index finger. Dr. Glock recommended that Kennedy undergo a neuroma procedure to remove the nerve ending that was causing his pain. After his surgery, Kennedy experienced severe pain in the thumb near his amputated index finger—pain that he claimed he had not experienced before the procedure. Kennedy filed a claim against Dr. Glock for, among other things, a lack of informed consent about the risks involved in the neuroma procedure.
Consent to a procedure must be based on a full understanding of the risks
A neuroma is a painful growth of nerve cells that typically results from damage to that nerve, and it can be challenging to treat. Studies find that about 75% of all patients who undergo neuroma procedures experience enough relief from pain that they feel the procedure was "worth it." However, even those patients who thought that the procedure was "worth it" rarely believe that they've been completely relieved of pain. Like other surgeries, especially those involving anesthesia, neuroma procedures come with a risk of infection, injury to blood vessels, and death. Kennedy claimed that he was not presented with the possibility that the surgery could result in death, nor that his pain would worsen or spread as a result of the procedure. Without this information, Kennedy argues that he did not give informed consent before undergoing surgery and that Dr. Glock should be held liable for negligence as a result.
A patient is entitled to damages for lack of informed consent when the patient can prove that:
They did not receive all the necessary information from their doctor,

They experienced an injury that resulted from the risks of which the patient wasn't notified,

They would have rejected the procedure had they understood the risks, and

A reasonable person who had been properly informed would have rejected the procedure.
In this case, Kennedy succeeded in convincing a jury that he did not receive a complete explanation of the risks involved in the neuroma procedure, and that a reasonable person would've also rejected the procedure if they understood the chance that a quarter of all patients do not experience relief from pain after the procedure. The Court of Appeals affirmed this decision on appeal.
If you've been the victim of a medical mistake or surgical error in Indiana, find out if you're entitled to damages from a medical malpractice claim by contacting the effective and knowledgeable Indianapolis medical malpractice lawyers at Lee Cossell & Feagley, LLP for a free consultation at 317-631-5151.