How to Proceed Following a Truck Accident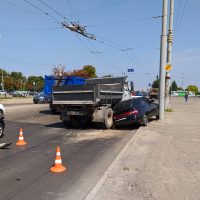 Truck accidents can be jarring and traumatic incidents. When an eighteen-wheeler tractor-trailer or other large truck collides with a smaller vehicle, a catastrophic injury is likely to occur. Below, we discuss a few important steps you should take as soon as the accident occurs and in the following days and weeks. If you've been injured in a large truck crash in Indiana, call an Indianapolis truck collision lawyer for advice and representation.
Get to Safety
If you are physically able to do so, the first thing to do immediately after a truck accident is to get yourself to a safe place. Move to the side of the road or another safe location. If you cannot move without causing further injury, stay put.
Call the Police
Indiana law requires the driver of any motor vehicle in an accident that results in injury, death, or property damage in excess of $1,000, to immediately report the accident to the police. The easiest way to report the accident is to call 911. If you were hurt, if other drivers or occupants were hurt in the truck crash, or if your car was damaged, the accident should be reported.
Reporting the accident is important not only because it is legally required; you'll also want that police report down the line. If you need to bring a legal claim against the truck driver, their employer, or an insurance provider, the police report may become a key piece of evidence supporting your claim.
Get Medical Attention
If you suffered a serious injury, you need to get to a hospital immediately. Call 911, or wait for the first responders if someone else has already called. Accept help from the medics, take the ambulance ride to the hospital, and worry about the cost later. You do not want to exacerbate your injuries or put yourself at risk of a critical problem.
Even if you are not seriously hurt, you should still see a doctor as soon as you can after leaving the scene of the accident. You could have hidden injuries, such as internal bleeding, concussion, or organ damage, that you have yet to detect; ignoring these injuries can make them worse. Moreover, if you wait to see a doctor and later file a legal claim, the defense or insurance company might try to downplay your claims and argue you did not sustain those injuries in your accident. Do not give them leeway to undermine your claims or your damages; see a doctor immediately.
Take Photos, Get Witness Information
If you are mobile after the accident, it's time to take stock of what happened. If you were hit by the truck driver, either the trucker or trucking company could be liable for your injuries and other damages. If the driver, the company, or their insurance provider disagrees, you might need to prove their liability down the line. For that you'll need evidence.
Take pictures of the accident and the surrounding area. Take photos of the vehicles involved, the damage caused, streetlights and other traffic control devices, the state of the road, the weather conditions, etc. If anyone saw the accident, try to get either a statement from them or their contact information so that your lawyer can later reach out for a statement.
Keep Copies of All Documents
You'll start racking up documents relating to your case almost immediately: police reports, traffic accident reports, medical records, medical bills, auto repair bills, emails with your employer about missing work while recovering, etc. Keep copies of everything related to your accident. These documents may help you prove liability and damages in your eventual insurance claim or lawsuit.
Call a Lawyer
If you were hurt in a truck accident and someone else was to blame, you could be entitled to compensation. An experienced truck accident lawyer can help you collect. Accident victims with personal injury lawyers tend to recover more than victims going it alone. Call a lawyer to help you collect evidence, build your case, negotiate with freight companies and insurers, and ultimately maximize your recovery.
Call for Experienced and Diligent Help With Your Indianapolis Truck Accident Claim
If you or someone you love has been hurt or killed in a traffic accident in Indiana, contact the veteran Indianapolis personal injury lawyers at Lee Cossell & Feagley, LLP for a free consultation on your case at 316-631-5151.