Protect Your Right to Recovery After a Truck Accident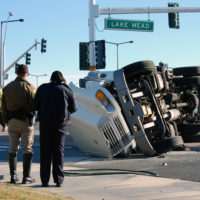 Truck accidents can take an enormous physical and financial toll on victims. Learn more below about the steps you should take if you find yourself involved in an accident with a tractor-trailer, 18-wheeler, or semi-truck in Indiana.
Document your claim
After a truck accident, your physical health is most important. Seek care in an emergency room if you're seriously injured, or see a doctor as soon as possible after the accident. Visiting a doctor right away will provide proof that an injury stemmed from a crash; if you delay treatment, it might appear that you are trying to recover damages from the accident claim for an injury which occurred after the crash.
Take photos at the scene of the crash; if possible, before the vehicles are moved. This will offer reconstruction experts the chance to determine what happened. These experts can create computer models of how they believe the accident occurred based on the position of the vehicles and evidence such as the distance of debris thrown from the car or tire skid marks. Ensure that a police report is generated. A police report will serve as valuable evidence to both a court and to your insurance carrier of what happened in the crash.
Find an Experienced Indiana Truck Accident Lawyer
Sometimes, you might be able to handle a minor car accident claim with your insurer alone. However, truck accidents are a different animal entirely. Trucking companies employ highly experienced litigators, as do their insurance carriers. They handle accident claims every day and know how to convince accident victims to take less money than they deserve. You need an experienced lawyer to walk you through the process of recovering against these companies.
Additionally, truck accident claims are far more complex than those based on car accidents. There are hundreds of federal and state laws which apply to the operation of large trucks and long-haul driving which can come into play in a truck accident claim. Unlike a car accident claim, there are also multiple defendants to any lawsuit stemming from a truck accident, since multiple companies bear responsibility for the safety of the truck and driver. Make sure you hire an attorney experienced in filing such claims, ready to go to trial to fight for the money damages you deserve.
If you or someone you love has been hurt in an accident with a tractor-trailer, 18-wheeler, or semi-truck in Indiana, make sure you receive the compensation you're owed for your injuries, lost work, and pain and suffering by contacting the knowledgeable and experienced Indianapolis personal injury lawyers at Lee Cossell & Feagley, LLP for a consultation on your case, at 317-631-5151.