Recent Indianapolis Accidents Show Danger of Head-On Collisions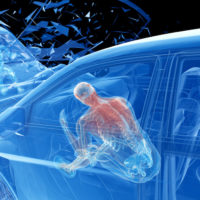 Few forms of collision are as deadly as head-on crashes, and two recent local accidents serve as evidence of this fact. Learn more about the accidents below, and contact a seasoned Indianapolis personal injury lawyer if you've been hurt in a head-on crash.
Local head-on accidents leave numerous injured victims
On Monday, April 23, 2018, four people were injured in a head-on crash in Indianapolis. The crash occurred on the west side of Indianapolis, near the intersection of 10th Street and Ridgepointe Drive. A Wayne Township Fire Department ambulance heading west on 10th Street appears to have veered over the center line and collided with a sedan traveling east. Two medics traveling in the ambulance suffered non-life-threatening injuries and were taken to the hospital. The driver of the car was taken to the hospital in serious condition. The patient traveling in the ambulance also suffered minor injuries. Police are still investigating the circumstances behind the crash. In another recent crash, a couple was killed in a head-on crash on State Road 32 near Mule Barn Road. Police believe that a car carrying an adult and a child crossed the center line and collided with the couple's SUV. The couple was declared dead at the scene of the accident. The occupants of the other vehicle involved were also injured and taken to a local hospital.
Head-on collisions responsible for substantial portion of roadway deaths
Head-on collisions, while not common, claim a disproportionate number of lives on our nation's roads. While only an estimated 2% of all traffic accidents are head-on crashes, these accidents are typically responsible for about 10% of all deaths that occur on US roads each year. Often, head-on crashes can be traced back to reckless or careless behavior, such as driving while distracted, drunk driving, driving while fatigued or falling asleep, speeding, or passing in a no-passing zone. Victims of head-on crashes who are left with substantial medical bills, lost wages, or pain and suffering may be able to recover the money they're owed through a personal injury lawsuit against the driver who negligently or recklessly caused their injuries.
If you're in need of compassionate, skilled, and professional legal help after an Indiana head-on accident or other car accident, contact the seasoned Indianapolis personal injury lawyers at Lee Cossell & Feagley, LLP for a no-cost consultation on your case, at 317-631-5151.