Red Light Cameras Save Lives, Study Finds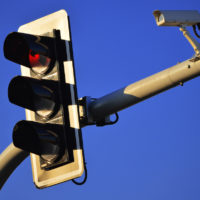 Red light cameras are not permitted in Indiana, but once you drive across the border into Illinois, you'll find them. Many drivers resent the automated red-light enforcement mechanisms, but studies have shown time and again that red light cameras increase driver safety and save lives. A recent study conducted by the Insurance Institute for Highway Safety (IIHS) found that, not only do red light cameras prevent fatal accidents at intersections, but when the lights are removed, fatality rates jump markedly.
In 2014 alone, 126,000 people were injured and 709 were killed as a result of red-light-running accidents. Most of those who are hurt in these crashes aren't the drivers who ran a red light; rather, they're the pedestrian, bicyclist, or driver in the car that entered the intersection when their light turned green. Studies have long shown that red light cameras are effective in discouraging drivers from running red lights, and are generally supported by members of communities where they're active. Nevertheless, a vocal minority opposes the cameras, and red light cameras have been deactivated in numerous cities across the country. While 533 communities had active red light cameras in 2012, only 467 had active cameras in 2015.
The IIHS study examined how fatality and accident rates changed when red light cameras were introduced, and when they were deactivated. According to their study, cities that introduced red light cameras experienced 21% fewer red-light-running accident fatalities than cities without red light cameras. Not only did research find that red-light-running crashes were diminished when red light cameras were installed, but collisions attributed to other causes also went down; cities with active red light cameras had a 14% lower rate of accident-related fatalities over all types of crashes. Researchers speculate that the cameras' presence at intersections causes drivers to drive more cautiously in general, and not just in regard to running red lights. In cities that once used red light cameras but had deactivated them, the IIHS discovered a 30% increase in fatalities resulting from collisions where a driver ran a red light, and a 16% jump in crash-related fatalities overall. When comparing the fatality rates in cities that had installed red light cameras with those of cities without red light camera programs, the researchers found that almost 1,300 lives were saved by the cameras during the years they were active.
If you or someone you love has been injured in a crash with a reckless or negligent driver in Indiana, contact the skilled, compassionate, and trial-ready Indianapolis personal injury law firm Lee Cossell & Feagley, LLP for a consultation on your case, at 317-631-5151.