Research on Drowsy Driving Shows Its Dangers for Causing Indiana Car Accidents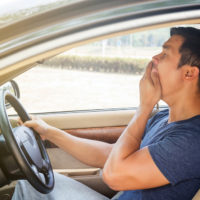 In our busy culture, it can be tempting to sacrifice sleep in order to keep up with professional and social demands on our time. More and more research shows that skipping sleep in this way can have highly detrimental effects on physical and mental health, and it can even have serious safety consequences. A recently-published study has found that drowsy drivers pose even greater threats to themselves and others on the road than previously known. Read on to learn about this research, and speak with a seasoned Indiana motor vehicle accident lawyer if you've been hurt in a crash with a drowsy driver.
According to the National Highway Traffic Safety Administration, drowsy driving is responsible for only 1% to 2% of all fatal crashes nationwide each year. This number has seemed suspiciously low to many safety experts, especially as recent studies have shown that extreme drowsiness can make drivers as unsafe as drunk drivers. However, finding out whether a driver was drowsy or nodding off at the time of a crash can be difficult to learn, as it is not provable through a chemical test in the same manner as driving while intoxicated.
Researchers at the AAA Foundation for Traffic Safety sought to take a closer look at the role drowsy driving plays in causing crashes. The team used video footage gathered during the Second Strategic Highway Research Program Naturalistic Driving Study, a multi-year study where over 3,500 drivers agreed to be filmed while behind the wheel of their car. The researchers isolated several seconds of footage of drivers in the moments before they were involved in a crash, slowing down the film to observe how long drivers spent with their eyes closed (an established objective measure of drowsiness).
In contrast to existing statistics on drowsy driving's role in crashes, the AAA Foundation team found that up to 9.5% of all crashes involved a drowsy driver. Further, drowsy driving was an even bigger factor in serious crashes; up to 10.8% of all crashes resulting in serious property damage, physical injury, or airbag deployment involved a drowsy driver. Victims of drowsy driving crashes may have a claim for damages against the drivers who cause their injuries and should contact a knowledgeable personal injury lawyer for more information.
If you need help getting compensation after an Indiana motor vehicle accident, contact the dedicated, knowledgeable, and effective Indianapolis personal injury lawyers at Lee Cossell & Feagley, LLP for a free consultation at 317-631-5151.