What are the Causes of Self-Driving Accidents?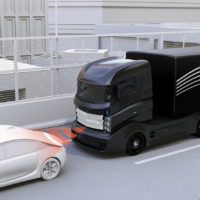 While many safety features now available on new vehicles, such as automatic braking or blind-spot warning systems, can provide much greater safety for drivers, controversy still surrounds the safety of autopilot and automated driving systems, such as those installed in multiple Tesla models. A recent crash involving a Tesla in Autopilot mode has attracted renewed attention to this issue. Learn more below about how automated driving systems may result in crashes among inattentive drivers. If you find yourself with more questions about self-driving cars or if you've been hurt in an Indiana car crash, contact an experienced Indianapolis car accident attorney.
Self-Driving Crash: Another reminder of the limits of automated driving systems
An accident on a Utah highway highlights the problem of drivers in autopilot mode believing that they don't need to continue watching the road. The driver of a Tesla Model S using her vehicle's Autopilot system found herself involved in a major crash, ramming into the rear of a fire engine on a major highway. According to Tesla, which reviewed the car's internal computer after the accident, the driver had not placed her hands on the steering wheel for a full 80 seconds prior to the collision. Fortunately, both drivers involved survived the accident, but the Model S was totaled in the crash.
Automation doesn't make a car self-driving
Automated driving systems currently available to individual car buyers do not make cars self-driving. All auto manufacturers claim that drivers are repeatedly warned of their need to remain attentive to the road at all times, even if they are not currently directing the car or do not have their hands on the wheel. However, many drivers do not understand the extent to which they need to remain involved in driving when autopilot systems are running. This is a phenomenon one expert calls "mode confusion." "Drivers do not understand the mode that the automation is in, and what its limitations are," explains Missy Cummings, the director of the humans and autonomy lab at Duke University. She went on to say that "the more we put in these ambiguous driver-assist technologies that potentially can drive the car in some limited capacity, we will see more of these accidents, absolutely."
Drivers responsible for their vehicles, regardless of automated driving systems
The bottom line is that drivers remain responsible for their vehicles at all times, whether or not an automated driving system is operating. Drivers who do not continue monitoring traffic or their vehicle's speed may put themselves and others at risk of serious injury and can be held financially responsible for any resulting accidents. If auto manufacturers recognize a pattern of accidents resulting from driver inattention or confusion about automated driving systems and fail to equip cars with safeguards to ensure driver attention, they may bear some portion of responsibility for resulting accidents, as well.
If you've been injured in a crash in Indiana, get help seeking the money damages you're owed by contacting the professional, experienced, and effective Indianapolis personal injury lawyers at Lee Cossell & Feagley, LLP for a free consultation at 317-631-5151.