Seat Belt and Child Restraint Laws in Indiana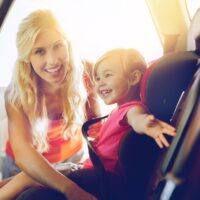 Traffic safety laws vary widely by state, especially when it comes to the regulations concerning child safety. Proper child restraints are essential for protecting children from the worst effects of a car crash. Continue reading to learn about child safety laws in Indiana, and call an Indianapolis car crash lawyer if you or a loved one has been injured in a car wreck in Indiana.
Indiana Child Restraint Regulations
Indiana law imposes regulations on child seat belts and child restraint systems depending on the age and the size of the child in question. Indiana has fewer specifics than many other states concerning the requirements for child car seats, giving parents more leeway in choosing how to protect their children.
Indiana law includes the following regulations on child restraints and seat belts:
Children under the age of 12 months or weighing under 20 pounds must be restrained in a rear-facing car seat.
Children who are at least one year old and 20 pounds may be restrained in a forward-facing car seat.
Children under the age of eight must be fastened and restrained by a proper child restraint system, suitable for their height and weight. Children who have outgrown forward-facing car seats should use booster seats. Although children over 30 pounds can upgrade to a booster seat, Indiana State Police recommend using a car seat until the child is at least 40 pounds, and the seat should be federally-approved with a harness system.
All children under the age of 16 must use a seat belt or another child restraint system.
Experts recommend children stay in the back seat until at least age 13, when they can be seated in the front seat and restrained using a seat belt.
Children and adults aged 16 and over, including all drivers and passengers in the front and back seats, must be properly restrained by a seatbelt.
Seat Belts Save Lives
Seat belts and child restraints are mandated for a good reason: they save lives in crashes. However, not every injury can be prevented by using a seat belt. Whether or not the use or nonuse of a seat belt will impact a personal injury claim after a crash depends on the facts in the individual case, such as the type of collision involved, the position of the passengers, the injuries suffered, and many other factors. Whether the injury victim was properly belted or restrained or not, it's important to review the accident with an experienced car accident lawyer before making any decisions regarding an insurance claim or settlement.
Help With Your Indianapolis Car Accident Injury Claim
If you or someone you love has been hurt in a traffic accident in Indiana, contact the passionate and professional Indianapolis personal injury lawyers at Lee Cossell & Feagley, LLP for a free consultation on your case at 316-631-5151.