Serious Accidents Caused by Road Debris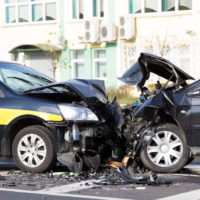 We've all seen it—a mattress flapping wildly against the roof of a car, a ladder bouncing violently with every bump in the road. Poorly secured cargo can pose a serious hazard to other drivers. A recent study took a look at the frequency of car accidents caused by road debris, and the rate at which such accidents cause injuries to those involved. The study's authors also offered several suggestions on how the collisions can be prevented.
The AAA Foundation for Traffic Safety conducted the study in question, using data gathered from police reports of crashes caused by loose items in the road. Researchers divided accidents caused by road debris into three separate categories: Vehicles crashing with a loose item already in the road, vehicles colliding with or being hit by items falling directly from other vehicles, or crashes that stem from a driver swerving to avoid hitting a loose item. Researchers found, when looking at accident data gathered between 2011 and 2014, there were an average of 50,658 accidents each year that were attributed at least in part by an item in the roadway. Of these, an average of 9,805 individuals were injured, and 125 were killed.
When comparing the three types of road debris accidents, researchers found that the one most likely to cause a fatality was an accident resulting from a driver swerving to avoid hitting cargo. The researchers posit that this is due to the fact that these drivers are more likely to be involved in a rollover accident, or to swerve off the road and strike a tree, cement barrier, or guardrail, or to swerve into another car. Even if a driver only hits the loose object rather than a concrete median or other vehicle, debris accidents can be quite serious. An item weighing as little as 20 lbs. that falls from a vehicle traveling at 55 mph could hit the car behind it with 1,000 lbs of force. If the item is something heavy like a piece of furniture, the results could be even more destructive.
The researchers suggested that, in order to prevent these crashes, potential victims of road debris accidents should drive defensively. Don't follow a truck hauling cargo too closely to ensure that you have enough time to avoid a crash should an item become loose. If a crash with an item is unavoidable, try to slow down as much as possible leading up to the crash. Drivers who are transporting items should use strong rope or straps to secure the items, tying large items such as furniture directly to the vehicle. Drivers should also secure all cargo with a tarp or net to ensure that items do not become loose, and should periodically check their load to ensure that all items remain secured. Drivers who fail to take these kinds of reasonable measures to protect the safety of other drivers could be liable for any resulting damages via a personal injury lawsuit.
For legal help after you're injured in a car accident in Indiana, contact the seasoned, professional, and compassionate Indianapolis personal injury lawyers at Lee Cossell & Feagley, LLP for a consultation, at 317-631-5151.