What to Do When Flying Debris Hits Your Car?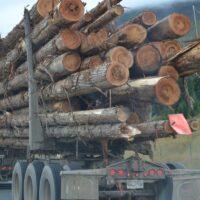 We have all had that brief moment of panic when we are on the freeway and see a large truck hauling a pile of lumber or other loose materials in front of us. What would happen if the straps broke and the logs came loose, flying backward and crashing into your windshield? What about when other objects, such as rocks, concrete, felled trees, or small animals, are kicked up by moving tires? What should you do when flying debris hits your car? Read on for a discussion of how to handle fallen debris accidents, and call an Indianapolis car crash lawyer with any questions if you've been injured in a car wreck in Indiana.
Stop, Pull Over, Get Safe
Like any other car accident, if flying debris hits your car and either severely damages your windshield or sends your car off the road, it is crucial to get yourself and your passengers to safety. If you are able to do so, pull over to the side of the road, get out of the car, and assess the damage. If the truck driver and anyone else involved pulls over as well, exchange insurance and contact information, and inform the authorities about the incident. If any witnesses stop to help, get their contact information as well–you might need their help in building your claim.
Identify the Responsible Parties
Flying debris accidents can be more complicated than the typical auto collision. Even when the debris came from the back of a truck– indicating that the truck is at-fault for the crash–proving who is actually responsible can be difficult. Take a look at the truck bed and the truck driver to get an initial impression as to whether the driver displayed obvious fault: failing to secure the items that came loose, driving erratically or other negligent behaviors. You may or may not be able to glean much from the scene of the crash, but you and your attorney will be able to investigate more down the line.
When you are seeking to hold someone liable for your injuries, you and your lawyer will need to identify all of the parties who may be responsible. Trucks are often owned or operated by freight companies who take legal responsibility for the actions of their drivers. The freight company may, in turn, try to blame the accident on a third-party contractor responsible for negligently loading the truck, or on the manufacturer of the truck or trailer. You will need to wade through the muddy waters of legal responsibility to make sure that someone compensates you for your damages.
See a Doctor, Keep all the Paperwork
If you are injured, see a doctor as soon as possible after the accident. Getting medical attention quickly will ensure that you are not suffering from any possible injuries that may become worse without treatment and also restrict the ability of insurance companies and negligent parties to limit your damages. The sooner you see a doctor, the less likely someone can claim that your injuries came from some other event.
At this point, you are starting to build your claim for relief, whether that comes from insurance providers or the responsible parties directly. Keep all documents generated in connection with the accident, including police reports, medical bills, medical reports, auto repair bills, and communications with your employer about any time you miss at work as a result of your injuries.
The Driver May Not Realize Anything Happened
One of the most challenging things about flying debris accidents is that truck drivers often do not realize that anything happened, and they may simply keep driving. If you are not able to identify the truck by license plate or a logo on the side of the vehicle, and no witnesses were able to identify the truck either, you might not be able to hold the responsible party liable. Work with your attorney to see if there is any way to investigate the incident–traffic cameras, security footage, any details you can recall, etc. However, even if you cannot identify the liable parties, you should still be able to file a claim under your own insurance policies. Discuss your claim with your attorney to ensure that you file under the appropriate policy and include all information necessary to see that you get the maximum coverage available.
Help With Your Indianapolis Car Accident Claims
If you or someone you love has been hurt in a car crash in Indiana, contact the dedicated and capable Indianapolis personal injury lawyers at Lee Cossell & Feagley, LLP for a free consultation on your case at 316-631-5151.