Study Supports Use of Rear-Facing Car Seats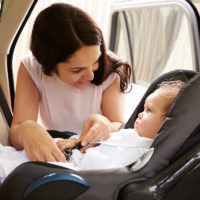 Car rides are simultaneously one of the most routine and most dangerous things we do with our children. As parents, we try to ensure that we take every possible precaution to keep our kids safe while we're on the road, with one of the most important safety measures being the use of an appropriate child restraint. A new study looked at whether rear-facing seats were as successful as front-facing seats in protecting children during rear-end crashes. Read more about the study below, and contact a seasoned Indianapolis personal injury lawyer if you or your child has been hurt in an Indiana auto accident.
Research conducted by the Centers for Disease Control and Prevention shows that car accidents are the most common cause of death for children up to age 19. Child safety seats are an important factor in preventing serious injuries to young children involved in a crash. In fact, the risk of fatal injury to children can be reduced by up to 71% through the use of a correctly-installed and fastened safety seat. While safety researchers and groups such as the American Academy of Pediatrics recommend that infants ride in rear-facing car seats, some parents are skeptical about these seats. Many parents wonder if their children are at a greater risk of suffering head or neck injuries if, as the result of a rear-end crash, the rear-facing seat strikes the back of the car's front seats and causes damage to the child's head or neck.
The Injury Biomechanics Research Center at Ohio State University conducted an experiment to look at whether, in fact, a rear-facing seat was less safe than a front-facing seat for children involved in rear-end crashes. The team learned that rear-facing seats provided excellent protection to infants in rear-end crashes. The lead author on the study explained that, "with a rear impact, we would expect occupants to be 'pulled' toward the rear of the vehicle according to basic physics. When a child is in a rear-facing carseat in this scenario, the car seat actually stays with the child and continues to support the head and spine."
Indiana law requires that parents use rear-facing seats for their children until the child is one year of age and weighs at least 20 lbs., but state troopers recommend that parents use rear-facing seats until the child has exceeded the maximum height and weight listed on the seat itself. Even when parents provide every possible protection to their children when riding in the car, accidents can happen that leave kids with serious injuries. Victims of Indianapolis motor vehicle accidents may be entitled to money damages for things like medical costs and pain and suffering, and they should contact an Indiana personal injury lawyer to determine their options for obtaining compensation.
If you or your child has been the victim of a serious Indiana car accident, get help seeking the money you're owed for these injuries by contacting the Indianapolis offices of the seasoned personal injury attorneys at Lee Cossell & Feagley, LLP for a free consultation at 317-631-5151.