What to Do After a Truck Accident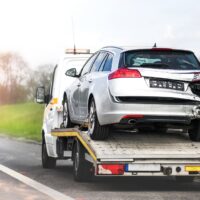 Accidents involving large trucks are, on average, more severe than typical car crashes. The sheer size of the vehicle, along with the potential for the truck's haul to come flying or spilling out in a collision means that truck accidents are likely to cause more property damage and more serious injury. Moreover, truck accidents can be more complicated in terms of establishing liability after the fact. Continue reading for tips on what steps to take after a truck accident in Indiana and contact an Indianapolis truck accident lawyer with any questions if you've been hurt by someone else's negligence.
Stay at the scene, collect evidence, report the crash
Immediately after a crash, assuming you aren't transported for emergency medical treatment, it is important that you stick around. Report the accident to the police and the DMV, exchange contact information (name, phone number, insurance policy, driver's license) with the truck driver and anyone else involved, and assess the situation. If anyone is injured, call 911. Take photos of the crash site, the vehicles, and your injuries. Collect contact information from any witnesses to later provide to the police and your attorney. All of this will help ensure that your injuries and property damage are properly covered by insurance or the at-fault parties.
See a doctor
If you require emergency medical attention, get to a hospital as soon as possible. Even if you are not facing a life-threatening injury, if you have any reason to suspect you might have been injured in the accident (and in an accident involving a truck, it is likely you suffered at least some bodily harm), see a doctor as soon as you can. You may have latent injuries such as a concussion, internal bleeding, or damaged organs that can be hard to identify at first. It is essential to get diagnosed early to avoid complications. Additionally, if your injuries are determined by a doctor soon after a crash, the driver, trucking company, and insurance companies will have a much harder time trying to claim that any of your injuries were caused by something other than the crash.
Get a lawyer
Truck accidents can be more complicated than typical car crashes. The levels of damage and injury are likely to be much higher, and there are likely to be many more parties that may be legally responsible for your injuries. Truck accidents may implicate the truck driver, their employer, the truck manufacturer, the company that hired the freight company to perform the delivery, or a third-party contractor who loaded the truck, among others. A dedicated Indianapolis truck accident attorney will know how to properly investigate your crash and determine who may be liable so that you have the best chance of securing full compensation, as well as how to build the strongest case for your recovery.
Trusted Help for Indianapolis Truck Accident Victims
If you or someone you love has been hurt or killed in a truck accident in Indiana, contact the passionate and talented Indianapolis truck accident lawyers at Lee Cossell & Feagley, LLP for a free consultation on your case at 316-631-5151.