Who are the potential defendants in a trucking accident case?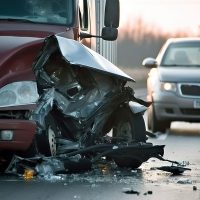 A truck accident can be catastrophic, leading to severe injuries and long-term consequences for victims. Trucking accidents are also almost always complex events, and even when it's clear the truck caused the crash, it's not always obvious which party or parties should bear legal responsibility for the accident. Read on to learn more about the different parties who can be liable in a truck crash. If you've been hurt in a truck accident in Indianapolis or anywhere in Indiana, the legal team at Lee Cossell & Feagley is here to help you understand the complexities of trucking accident liability and your potential claim. Call today for a free consultation with a skilled and experienced Indianapolis truck accident lawyer.
The Truck Driver
Often, the first party considered in truck accident liability is the truck driver. If the driver violated traffic laws, drove while impaired or fatigued, or was otherwise negligent in their duties, they could be held liable for any resulting injuries and damages.
The Trucking Company
Even if the truck driver was negligent, the trucking company that employed the driver can also be held accountable under the doctrine of "respondeat superior." This legal principle holds employers responsible for the wrongful actions of their employees done within the scope of their employment. In addition, companies may also be directly negligent by failing to properly train drivers, enforce safety protocols, or maintain their fleet of vehicles in safe working order.
The Cargo Loading Company
In some cases, the company responsible for loading the truck's cargo may also be liable. Improperly secured or overloaded cargo can cause or contribute to accidents, making the cargo loaders potentially wholly or partially responsible.
Truck or Parts Manufacturers
If a defect in the truck or one of its components caused or contributed to the accident, the truck manufacturer or parts manufacturer could be held liable under product liability laws. This could include defects in the brake system, tires, or any other crucial part of the truck.
Maintenance Providers
If a third-party maintenance provider performed substandard repairs or maintenance or failed to identify a critical issue during routine maintenance, they could be held liable for any resulting accident.
Other Drivers
In multi-vehicle accidents, other drivers involved could share the blame. Their actions, whether it's speeding, distracted driving, or any other form of negligence, could have contributed to the accident.
Get Help After a Complex Indianapolis Truck Accident
Navigating the complex waters of truck accident liability can be overwhelming, especially while you are in pain or disabled and focused on recovering from your injuries. At Lee Cossell & Feagley, we're dedicated to helping truck accident victims throughout Indiana understand their legal rights and pursue the compensation they deserve.
Our experienced Indianapolis personal injury lawyers will thoroughly investigate your case, identify all potential defendants, and work tirelessly to hold them accountable. We'll guide you through each step of the legal process, providing the skilled advocacy you need to secure a favorable outcome.
If you or a loved one has been injured in a trucking accident in Indianapolis or anywhere throughout Indiana, don't face this challenge alone. Contact Lee Cossell & Feagley today for a free consultation. Our experienced Indiana truck accident lawyers are ready to fight for you.