What Are the Trucking Laws in Indiana?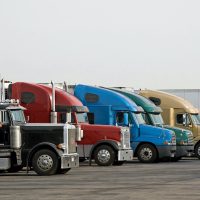 The State of Indiana imposes certain safety regulations on commercial truck drivers. Drivers who operate eighteen-wheelers, tractor-trailers, semi-tractors, big rigs, and other large trucks are subject to additional rules and regulations because of the added risks associated with those vehicles. Drivers who violate those rules may be subject to state-imposed penalties. If those violations lead to an accident, anyone who is injured as a result may hold the driver and, often, the freight company liable. Read on for a few of the more pertinent trucking laws imposed on Indiana truckers by state and federal law. If you've been injured in a large truck crash in Indiana, call an Indianapolis truck collision lawyer for advice and assistance.
Driver Qualifications
Commercial truck drivers must have the appropriate licensing and qualifications before operating semi-trucks and other large vehicles. In Indiana, commercial drivers must obtain a commercial driver's license (CDL) and semi-truck drivers must obtain a Class-A CDL. CDLs must be renewed every four years.
The baseline requirements to obtain a CDL are set by the Federal Motor Carrier Safety Administration (FMCSA). Drivers who obtain a CDL for the first time after February 7, 2022, must satisfy the FMCSA's Entry Level Driver Training (ELDT) regulations. Drivers must undergo minimum training, pass a vision test and skills tests, and pass a vehicle inspection test.
Size and Weight Limits
Indiana law sets certain limitations on the size and weight of semi-trucks and other commercial vehicles. Maximum weight limits include:
Max gross weight: 80,000 lbs.
Max single axle weight: 20,000 lbs.
Max tandem axle weight: 34,000 lbs.
Max tri-axle weight: 50,000 lbs.
Max wheel weight: 800 lbs. per inch of tire width
Trucks must also adhere to certain size limits. Typical size limits include a maximum width of 8'6," a maximum length of 50 feet, and a maximum height of 13'6."
Hours of Service Limitations
One of the most important sets of rules for commercial truck drivers concerns "hours of service" limitations. Driving a long-haul truck can be grueling, tedious work. Truckers spend hours upon hours behind the wheel, often for days on end. Such long hours cause driver fatigue and can lead to drivers self-medicating with stimulants or alcohol in an effort to stay alert or entertained.
To mitigate the risks of long-haul trucking, federal law limits the number of hours a trucker can work between rest breaks. The general hours of service rules are as follows:
Drivers may not drive more than 11 hours after 10 consecutive hours off-duty.

Drivers may not drive beyond the 14th hour after coming on duty (which may include non-driving time), after 10 consecutive hours off duty.

Drivers must take a 30-minute rest break after eight cumulative hours of driving without a prior break of at least 30 minutes off duty. This rule may not apply to short-haul trips.

Drivers may not drive more than 60 hours on duty within a 7-day period, or more than 70 hours on duty within an 8-day period. Drivers can restart the 7-day or 8-day clock by taking at least 34 consecutive hours off duty.
Drivers and/or their trucks must maintain logs of the hours they drive to ensure compliance with hours of service regulations. If a driver violates the hours of service rules, or if a freight company forces or encourages drivers to violate the rules (including by turning a blind eye to violations), the driver and/or their employer could be held liable in a resulting accident.
Maintenance
Truck drivers and freight operators are required to conduct regular maintenance of their vehicles. Brakes, steering, lights, tires, horns, wipers, coupling devices, and emergency systems must all be checked regularly.
Call for Seasoned and Skillful Help With Your Indianapolis Truck Accident Injury Claim
If you or someone you love has been hurt or killed in a traffic accident in Indiana, contact the dedicated and trial-ready Indianapolis personal injury lawyers at Lee Cossell & Feagley, LLP for a free consultation on your case at 316-631-5151.