Use Caution to Avoid Intersection Accidents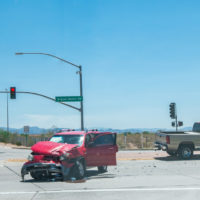 You may not realize it, but traveling through intersections is one of the most dangerous parts of any drive you take. There are steps that all careful drivers should take to avoid accidents in intersections. Read on to learn more about intersection crashes, and how to avoid them.
Intersection accidents among the most common
While intersections occupy a relatively small percentage of all roadway area, they are the site of a disproportionate share of all motor vehicle accidents. A study of accident data by the National Highway Traffic Safety Administration determined that nearly 40% of all accidents occurred in or near intersections, making them the second-most common form of motor vehicle accident behind rear-end collisions.
The NHTSA pinpointed several of the most-commonly cited causes of intersection accidents, including:
Insufficient surveillance: Among all accidents in intersections stemming from driver error, 44% were caused by a driver failing to look carefully for oncoming traffic or pedestrians before turning or traveling through an intersection. This makes it the largest single cause of intersection crashes.
False assumption of other driver's action: Consciously or unconsciously, you're often making assumptions about what another driver will do on the road. For example, you assume that an oncoming driver will stop when their light turns red, and that they will not turn when it is plainly not safe to do so. Making the wrong assumption can result in a serious collision.
Turning with an obstructed view: Cars turning left are often a cause of intersection accidents. Cars turning left without waiting to have an unobstructed view that no cars are oncoming are the root cause of over 20% of all intersection accidents.
Stay safe when traveling through intersections
Preventing intersection crashes requires drivers to employ a high degree of attention and caution. Drivers should avoid making assumptions about how another driver will react to a yellow or red light if the possibility that the assumption was incorrect could cause a crash. Drivers waiting at a red light should also resist accelerating through the intersection immediately after a light turns green, so as to avoid colliding with any straggling red-light-running cars traveling in the opposite direction. Additionally, drivers should refrain from changing lanes in an intersection or immediately before or after, and always check blind spots for pedestrians, bikers, or cyclists before making a turn.
If you've been hurt in a collision in an intersection in Indiana, find out if you have a claim for money damages by consulting with one of the dedicated and effective Indianapolis personal injury lawyers at Lee Cossell & Feagley, LLP for a consultation, at 317-631-5151.