What Are Non-Economic Damages, and How Are They Calculated?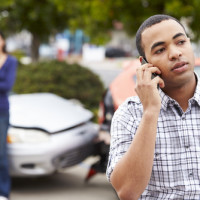 If you've been hurt in an accident and are considering filing a lawsuit, you may be wondering what sort of money award you might expect to receive if you're successful. Below, you'll find a description of the forms of recovery available if you're hurt in Indiana and pursue a claim in court for your injuries and expenses.
Different types of Damages
"Damages" is the word used in legal contexts to describe the money that a successful party to a lawsuit will be awarded by a court. There are two main types of damages which will likely arise in an average personal injury lawsuit: economic and non-economic.
*Economic damages compensate an accident victim for losses the victim has actually experienced, or expenses he or she has incurred as a result of the accident. Economic damages include the costs of your post-accident medical treatment, wages lost from missed work, the cost of replacing any property damaged in the accident, and lost earning capacity. For the most part, these types of damages are calculated fairly straightforwardly, as there is documentation for the value associated with each loss. The exception to this is lost earning capacity, as it can be difficult to show exactly how much more money you could have made, had you been able to continue unhurt along the career trajectory you were following.
*Non-Economic Damages are intended to compensate victims for intangible, immeasurable injuries. While money can't eliminate the physical suffering or loss of time you could've been spending with your children, it is the only way a court has to compensate you for those sorts of losses. Non-economic damages include:
—Pain and Suffering: These damages are intended to compensate a victim for the physical pain and mental anguish experienced as a result of their injuries. For example, if an accident involved especially painful burn injuries, or occurred in a harrowing manner such that the victim experiences flashbacks of the accident, then high pain and suffering damages may be warranted for that victim. Courts may also include damages for the mental anguish of disfigurement and embarrassment in pain and suffering damages calculations. Juries and courts will look at the severity of the victim's injuries and the nature of the accident to determine the amount of these damages.
—Loss of Consortium: These are damages intended to compensate a married couple for the impact that an accident may have had on the health of their marriage, especially on the couple's ability to be sexually intimate after an accident. These damages will also compensate for a spouse's inability to assist in maintaining the home after an accident, or to assist in caring for the family's children. Loss of Emotional Support is a related form of damages that can be awarded when a spouse or parent is injured and no longer able to be the supportive parent or partner he or she once was. The court will look to the severity of the victim's injuries, the extent of their physical limitations, and whether or when the victim can expect to make a recovery when calculating these damages.
—Loss of Lifestyle: These damages will compensate for the loss of the ability to engage in things like social activities, sports or hobbies after an accident in the same way as before. The court will again look to the degree to which the victim is less physically able than before an accident, and whether or not they can expect to return to full health at some point in the future.
If you have been hurt in an accident in Indiana, contact the experienced Indianapolis personal injury attorneys at Lee Cossell & Feagley, LLP for a consultation on your claims, at 317-631-5151.