What Constitutes a Wrongful Death Case?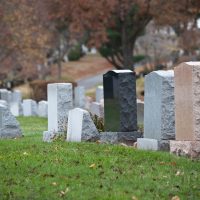 When someone is injured as a result of someone else's negligence or recklessness, the injured party has a personal injury claim. If the injured party is killed in the accident, however, does their claim die with them? Does their claim pass to surviving family members? Do those family members have any legal claims of their own, having lost a loved one? State laws differ, but, typically, the family or the estate of the deceased can bring a wrongful death claim against the responsible party. The parties who can bring a wrongful death claim, the specifics of that claim, and the type of compensation available depend upon the specifics of each state's wrongful death rules. Continue reading to learn about wrongful death claims in Indiana. If you've been injured, or if your loved one has been killed, because of someone else's negligence in Indiana, call an Indianapolis personal injury lawyer for advice and representation.
Defining Wrongful Death in Indiana
Indiana law defines a "wrongful death" as a death that was "caused by the wrongful act or omission" of another person or entity. A wrongful death claim can be premised on any type of injurious event, such as:
A car accident, slip and fall, or any other negligence-based incident
Medical malpractice
An intentional act, such as criminal homicide
A wrongful death claim is much like a personal injury claim. Had the victim survived, they would have had a claim against the party that caused them injury. Often, a wrongful death claim sounds in negligence, e.g., a negligent driver caused an accident by, for example, texting while driving. Because the victim was killed in the accident, there is no one to pursue a personal injury claim. Instead, the victim's surviving family members can bring a wrongful death claim.
Who Can Bring a Wrongful Death Claim?
Each state has its own rules regarding wrongful death claims. In some states, wrongful death claims are brought on behalf of the estate by a representative. In other states, certain surviving family members each have the right to bring their own wrongful death claims.
Indiana law determines who can file a claim based on the nature of the decedent (the deceased victim). If the victim was a child, the child's parents can bring a wrongful death claim. If the parents are divorced, or if the parents are deceased, whoever has legal custody can file the claim. For the purposes of wrongful death cases, Indiana law defines a "child" as either an unmarried person under the age of 20, an unmarried person under the age of 23 who is currently enrolled in college or another higher education program, or a fetus that has reached viability.
If the decedent was an adult, a personal representative of the decedent's estate can file a claim. Technically, the personal representative brings the claim, but only specific parties related to the decedent can actually seek damages. People who can recover damages after the death of a family member include the decedent's spouse, children, parent or guardian, and other dependents. If there are no surviving dependents or spouse, the estate can sue for certain damages.
Compensation Available in a Wrongful Death Claim
The types of damages available depend upon the nature of the victim. Generally, the following damages are available in an Indiana wrongful death suit:
Decedent was a child. The parents can sue for the loss of the child's services, love, and companionship, as well as for medical expenses, administrative fees, debts, and the costs of counseling for the parents or siblings of the decedent.

Decedent was an unmarried adult with no dependents. The estate can seek funeral and burial expenses, medical bills, and loss of the person's love and companionship (up to a certain limit).

Decedent was married or had surviving dependents. The estate can seek the costs listed above as well as compensation for the loss of the deceased's future earnings and the loss of their love, affection, care, guidance, and training.
Wrongful death cases can quickly become more complex than typical personal injury matters, requiring a thorough understanding of the law to ensure that the correct claims are brought by the appropriate parties and no rights are lost. Talk to a knowledgeable legal representative to ensure you and your family are protected after a fatal accident.
Call for Experienced and Trusted Help With Your Indianapolis Wrongful Death Claim
If someone you love has been hurt or killed due to another party's negligence in Indiana, contact the dedicated and successful Indianapolis personal injury lawyers at Lee Cossell & Feagley, LLP for a free consultation on your case at 316-631-5151.