When It Comes to Safety, Drivers Say One Thing and Do Another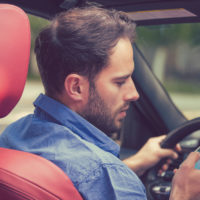 Each year, the AAA Foundation for Traffic Safety conducts a nationwide poll of drivers aged 16 and up, asking those drivers to give their opinion on issues related to safe driving, and also to find out how often those drivers commit unsafe behaviors while they're behind the wheel. The results of the most recent survey have recently been released, and they show a conflict between what drivers believe to be safe, and how they act while driving.
The survey's results included responses from over 2,000 licensed drivers who had been on the road in the past 30 days. The survey asked questions relating to an array of topics, including distracted driving, drowsy driving, driving at unsafe speeds, and driving while impaired.
Texting on the road is dangerous, but many still do it
Overall, drivers agree that texting while driving is dangerous. In fact, 80% of survey participants felt that texting while driving was a serious safety threat, and 88% of responding drivers support laws that ban texting while driving. Additionally, 42% of drivers would go even further by supporting a complete ban on cell phone use by a driver, even if the device was operated on a hands-free basis. Nevertheless, 40% of those drivers surveyed had read a text or email while behind the wheel in the past 30 days, and 31% admitted to typing a response to a written message while driving.
Young millennials admit to highest number of dangerous habits
The age group that was most likely to have engaged in unsafe behaviors was the group labeled by the researchers as young millennials, or drivers between 19-24 years old. According to the survey, these drivers were most likely to report driving over the speed limit, running a red light, or texting while driving, by a margin of 9% over any other age group. These drivers were also 1.6 times as likely as the average participant to have admitted to reading an email or text while behind the wheel. Furthermore, young millennials were 1.4 times as likely to have reported that they'd recently driven 10 mph or more over the speed limit than the average driver.
If you've been injured in an accident with a dangerous driver in Indiana, find out if you might have a claim for money damages for your injuries by contacting the seasoned and dedicated Indianapolis personal injury lawyers at Lee Cossell & Feagley, LLP for a consultation, at 317-631-5151.