Why Hire a Personal Injury Attorney?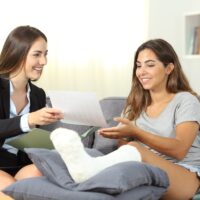 If you were hurt by a negligent driver, a defective product, or in a slip and fall at a grocery store, you might be wondering whether you need to retain an attorney. You are legally allowed to handle your own personal injury claims, including communicating with insurance providers, negotiating with defense attorneys, and even representing yourself in court. There are several reasons, however, why hiring a seasoned Indianapolis personal injury lawyer is in your best interests. We discuss a few of those reasons below.
Complex and complicated legal processes
If you do not get a settlement from the at-fault party or their insurance company that adequately covers your medical expenses, pain and suffering, and all other appropriate damages, you might need to go to court. The legal process is anything but simple. There are myriad rules and procedures to follow, and even small mistakes can mean missing out on certain claims or damages. Each court has its own rules, on top of county and state procedures, regulations, and case law pertaining to your claims. An experienced lawyer can handle the legal details, avoid errors, and make sure that you bring your strongest case to court.
Focus on your recovery
Even if you are able to handle the personal injury process on your own, including dealing with insurance providers, negotiating with defense attorneys, collecting hospital records, and fielding court procedures, you should not have to. If you were hurt in an accident, the chances are that you already have enough on your plate. You are likely dealing with missed time at work, interruptions in your personal life and activities, financial issues, all on top of trying to recover physically and emotionally from your accident. Let a seasoned professional take the burden of the legal side of things off your shoulders so that you can focus on your recovery, your family, and your life.
Maximize your compensation
Plaintiffs who retain attorneys tend to get bigger recoveries, whether via settlement or jury verdict. We've been there before, so we know what to expect from defense attorneys and insurance providers. We know what arguments and evidence they find convincing, and we know how to avoid or push back against their tricks and strategies aimed at reducing their payout.
Importantly, a knowledgeable personal injury lawyer knows what your case is worth. We will advise you as to whether a settlement offer is below what you can and should expect to receive, in light of your injuries and the circumstances underlying your claim.
Finally, when you hire an attorney, the insurance provider knows that you mean business. They know they cannot get away with offering a lowball settlement that drastically underestimates the actual value of your claim. They know they have to play ball and take your claim seriously.
Help With Your Indianapolis Negligence Claim
If you or someone you love has been hurt in an accident in Indiana, contact the dedicated and passionate Indianapolis personal injury lawyers at Lee Cossell & Feagley, LLP for a free consultation on your case at 316-631-5151.