Wrongful Death Misconceptions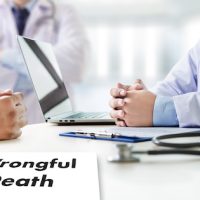 The death of a loved one is always difficult. When that death was caused by another person and could have been avoided, it can be even tougher to process. In such an event, surviving family members may be able to secure a semblance of justice, as well as compensation, through a wrongful death action. There are a lot of misconceptions about wrongful death claims and how they work. People who misunderstand wrongful death claims may miss out on the opportunity to hold to task the person responsible for the death of their loved one. Below, we discuss and dispel a few common myths about wrongful death claims in Indiana. If your loved one has been killed due to someone else's negligence in Indiana, call an Indianapolis personal injury lawyer for advice and representation.
Misconception 1: If the Death Was an Accident, the Death Wasn't "Wrongful"
If a wrongdoer kills a person intentionally, the victim's estate and/or family will certainly have legal claims against the perpetrator. Intentional homicide, however, is not necessary for a wrongful death claim. Wrongful death requires only that someone else was to blame for the death of the victim, and that they breached some duty owed to the victim (such as by acting negligently). An incident that would normally give rise to a personal injury lawsuit, such as a car crash or medical malpractice, can serve as the basis for a wrongful death case if the victim does not survive.
Misconception 2: Wrongful Death Claims Are the Same in Every State
Most states have roughly the same personal injury laws. They might vary a bit in terms of the statute of limitations (the time limit for filing a claim), and claims involving certain special situations may be different (for example, damage caps in medical malpractice cases), but the standard personal injury claims proceed similarly state-by-state. The same is not true of wrongful death claims.
State law can differ significantly when it comes to wrongful death claims. There are different rules about who can bring the claims, what damages can be recovered, whether there are limits on those damages, etc. If you are pursuing a wrongful death claim in Indiana, make sure your attorney is well-versed in Indiana wrongful death law. Indiana, for example, separates who can file a claim and what damages are available depending upon whether the victim was an adult or a child, whether they were married or unmarried, and whether they had dependents.
Misconception 3: Wrongful Death Claims Are About the Deceased Victim's Losses
Wrongful death claims cannot simply be described as "personal injury claims when the victim does not survive." There are several key differences between a standard personal injury claim and a wrongful death claim.
First and foremost, the damages available in a wrongful death claim are not the same as a personal injury claim. Wrongful death claims in Indiana are about compensating the deceased victim's loved ones for the harm they suffered upon losing the love, support, and companionship of the deceased. Wrongful death plaintiffs in Indiana can ask for damages for loss of society, economic support, inheritance, and anticipated income, as well as emotional and psychological damage caused by the loss of a loved one.
Misconception 4: Wrongful Death and Survival Actions Are the Same
Indiana distinguishes wrongful death actions from "survival" actions. Survival actions are more like personal injury cases brought by the estate. A survival action can seek damages caused to the victim before they passed away, such as their pain and suffering. Survival actions can also seek to recover disability, lost wages (while alive), medical expenses, and other costs and damages incurred while the victim was still alive.
Dedicated and Trustworthy Help With Your Indianapolis Wrongful Death Claim
If someone you love has been hurt or killed due to another party's negligence in Indiana, contact the experienced and effective Indianapolis personal injury and wrongful death lawyers at Lee Cossell & Feagley, LLP for a free consultation on your case at 316-631-5151.