Pediatricians' Group Revises Recommendations on Child Safety Seats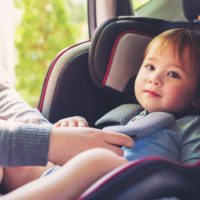 Finding the safest possible car seat for your child can feel like a moving target. In a previous post, we discussed research and conflicting opinions on car seat use for children, and it appears that expert opinions on car seat use have changed yet again. Recently, a physician's group has announced that research indicates it's time to revise their recommendation on how small children can most safely travel in cars and trucks. Read on to learn about the change in the AAP car seat guidelines, and contact an Indiana personal injury lawyer if your child has been injured in an Indianapolis car accident.
Until recently, the American Academy of Pediatrics (AAP) had recommended that infants and toddlers travel in a rear-facing car seat until they are at least two years old. The AAP has recently announced, however, that new research and a revised look at former research indicates that children are actually safest riding in a rear-facing seat as long as possible. This might mean that children as old as 3 or 4 should continue traveling in rear-facing seats. The organization recommends that children be transitioned to a front-facing seat only after the child has exceeded the weight or height limits for the seat, which could be between 35-50 pounds, depending on the seat.
A representative for the AAP explained that, each time children transition from one form of safety restraint to the next—from rear-facing to front-facing, from a seat with a five-point harness to a booster seat, etc.—they become slightly less safe in the event of an accident. Studies show that proper safety seat use can reduce a child's risk of injury in a crash by more than 70%. One important factor in convincing the AAP to revise their previous recommendation was a Texas court case where a car sear manufacturer was found liable to a child who suffered major injuries in a crash. The court determined that the manufacturer had a legal duty to warn customers that transitioning children to front-facing seats before they had outgrown the rear-facing seat involved a risk of injury to the child passenger.
If you or your child has been injured in a crash in Indiana, find out if you're a good candidate to seek damages through a personal injury lawsuit by contacting the seasoned and dedicated Indianapolis car accident attorneys at Lee Cossell & Feagley, LLP for a no-cost consultation on your case at 317-631-5151.